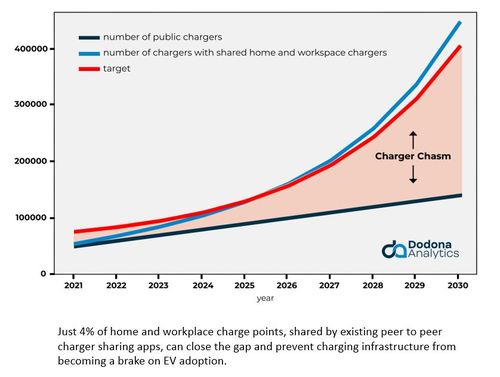 Independent research by data and analytics experts Dodona Analytics reveals electric charger sharing is essential to support the UK's ban on the sale of new petrol and diesel vehicles by 2030. According to their research, if only 4% of motorists with a home charger share it with their neighbours living in flats and terraced houses where they can't have their own charger, then a successful transition to EVs can be achieved - but without it we face a shortfall or 'charger chasm' of over 250,000 chargers.

A growing number of companies facilitate EV charge point sharing via apps. The app connects the 'host' or charger owner with motorists who would like to rent their charger and will handle the 'matchmaking', bookings and payments. Co Charger connects communities to share chargers within neighbourhoods whilst other apps offer 'destination charging' as an alternative to public and motorway charging on long journeys.
In their white paper Will the EV charge point...
Read full release