Disney Princess-Style Locks for Little Princesses!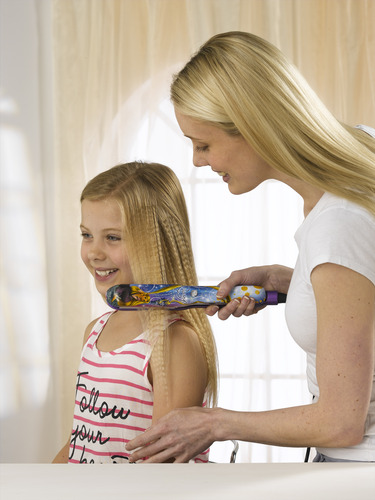 New Disney Princess Haircare Range:

- Beautifully designed Disney Princess Hair care products
- Caring features which are kinder to the hair
- Unique child proof plug cover to stop your little princess using the product without adult supervision

Millions of children all over the world are enchanted by Disney and its wonderful character-filled world. And if your little girl is a Disney Princess fan she will love you styling her hair with these new Disney Princess haircare products, lovingly created in character. These include a fabulous range of electrical hair styling products that perfectly fit the unique Disney Princess characters – including, Cinderella; Rapunzel; Jasmine; Ariel; Belle and Aurora. Great for birthday and Christmas gift ideas and any other gifting treats, Disney Princess haircare products offer a fantastic choice of products to delight all Disney Princess fans!

Unique Patented Child Proof Safety Plug

Disney Princess haircare products include features that have caring properties for younger hair, and every product comes with a free unique patented child proof plug cover, to stop your little princess from using the product without adult supervision. Simply fit the child proof plug cover onto the product's plug when not in use. You can remove the cover when you are ready to style your little girl's hair.

Disney Princess Rapunzel

Known for her highly curious nature and sense of adventure, Rapunzel is also famous for her amazingly long locks. These new haircare products featuring Rapunzel are designed to help create lots of beautiful styles in minutes. Choose from Straighten & Crimp (a combination Straightener and Crimper); a Multi-Styler (with lots of different styling attachments to create masses of princess hairstyles); and a fabulous Hairdryer Gift Set (which includes a Hairdryer, a Disney Princess carry case; hairbrush and hairclips).

Disney Princess Jasmine

An exotic, fiery beauty, Jasmine's long, smooth and silky hair glistens in the night sky when she is flying high over Agrabah on a magic carpet ride with Aladdin. She styles her hair with a stunning royal jewel head band and neatly tied back with a ribbon. The Jasmine Micro Dryer lets you style your little girl's hair in lots of different ways quickly and easily, leaving it soft and shiny just like Jasmine's hair.

Disney Princess Ariel

Ariel has a feisty spirit, that matches her very distinctive long flowing red hair. The distinctive red colour makes her stand out amongst the other magical under the sea characters. The Ariel Ceramic Straighteners lets you straighten your little girl's hair with care and control, leaving it soft and shiny so she too can feel like a princess.

Disney Princess Belle

Belle is known for her spirit and natural beauty and likes to experiment with different hairstyles for her long flowing brown locks. The Disney Princess Belle Dream Dryerlets you style your little girl's hair in lots of different ways, the dryer's Ionic feature,leaving hairwonderfully soft and shiny just like Belle's.

DisneyPrincess Cinderella

Cinderella wasn't born a princess, but she has all the natural graciousness and poise of one. Now a Disney Princess, Cinderella often needs to look the part and her Straighten & Curl will create beautifully sleek and smooth straight styles, tumbling curls or waves, quickly and easily. As well as looking fantastic, Straighten & Curl plates are specially coated with tourmaline and ceramic, which is more natural and gentle to hair. Ionic and infrared technology also makes hair softer and easier to style. There's also comb attachments that slot over the plates for curling – all perfect for creating 'belle of the ball' looks.

Disney Princess Aurora

Aurora has an unassuming grace and cheerful, unaffected spirit. Sleeping Beauty Aurora yearns to meet that special someone and discover the wonder of true love. The fabulous Mini Crimper Gifting Set featuring Aurora is perfect for creating beautifully crimped eye-catching locks and includes an easy to use crimper (with variable heat settings) with Disney Princess Carry Case, Hairbrush and Hairclips for your little princess.

Disney Princess fans everywhere can enjoy having their hair styled with the very latest hair care styling products - designed with their favourite Disney Princess characters in mind –offering fabulous inspiration for gifts any time of year.

Note to Editors: For further information, PR images, or product loan please contact: Dianne Kenyon at dk@diannekenyon.com or telephone 07891 225 352.

About MPL Home Ltd

MPL HOME Ltd MPL Home is recognised as being a dynamic force within the small electrical appliance industry. It continually brings stylish, well made and cost effective products to the UK market, whilst utilising its strengths in design, marketing and distribution.

The company offers a wide range of innovative home and lifestyle products, which include a range of stylish small kitchen appliances, 'Sweet Treats' (electrical home baking products including cup cake and brownie makers) together with Gourmet by SensioHome.
MPL Home Ltd also work with many well-known licensed brands to bring fantastic consumer products to the market across a variety of sectors. Additionally the company provides many well-known UK high street stores with products for private label brands.