Born in the USA Bella Brand set to Launch In the UK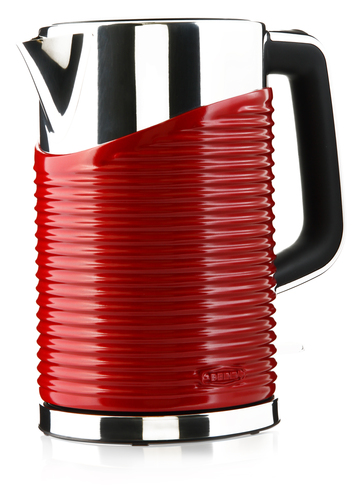 Bella Brings a Breath of Fresh Air to UK Small Kitchen Appliances.

Bella, already a leading brand of small electrical kitchen appliances in the USA, is today launching its innovative and chic designs into the UK market. Without doubt, it is the Millennial consumer, who is tech-savvy, attracted to colour and contemporary design, that has inspired the success of the Bella brand in the USA, differentiating itself from the competition. Bella's Brand identity is 'genuine, playful, social and bold' – and now, it plans to bring that philosophy to a range of UK products, offering consumers a 'Bella Lifestyle', including innovative products, with great features and colourful designs – making the kitchen a fun place to cook and entertain.

This contemporary, fashion-focused, product collection, initially featuring Kettles, Toasters, an Espresso Maker and High Power Whole Fruit Juicer, in either a striking Red and Chrome or Black and Chrome finish, will ultimately offer consumers excellent product choices and an array of fashion colours, bringing head-turning style and great design into the kitchen.

Using its expertise within the small electrical appliance industry, MPL Home will be Marketing and Distributing the new Bella range in the UK. "We are delighted to be launching the new Bella brand of innovative, time-saving and stylish products which we believe will be a welcome addition to the UK small kitchen appliances market" says Paul Rosen, CEO of MPL Home. "Bella is all about successfully combining good looking products with great features and this exciting new range promises to deliver that and more, making the kitchen a more exciting place to be."

"We also want consumers to get to know Bella - we want to actively engage with them. So, the brand will be supported by a consumer centric digital campaign to reach out to its target audience, using a variety of creative, fun and informative ways."

Bella Linea Kettle
Sleek and funky, the new Linea Kettle with its stylish textured stainless steel metallic finish – and available in Red or Black - instantly brings a touch of glamour to the kitchen. Energy efficient, the Bella Linea Kettle with its 2.2Kw element, uses a third less energy than other kettles, whilst still offering great performance. A 360° swivel base also means it's ideal for right and left-handed users. And, it's also quieter, so you really can chat over that cuppa. RRP £54.99

Bella Linea 4-Slice Toaster
The Bella Linea 4-Slice Toaster not only looks smart with a new take on an iconic look, but also produces great toasting results every time. It also boasts some great features that provide more than just traditional toast: its extra wide slots, with self-centering guides, allow perfect toasting of today's breakfast items, whether it's crumpets, pancakes, or English muffins. There is also a choice of a striking Red or Black with stainless steel combination to perfectly co-ordinate with the Linea Kettles. RRP £59.99.

Bella Espresso Coffee Machine
This smart new Espresso Coffee Machine makes a great addition to any coffee lover's kitchen. Compact and sleek, this coffee machine allows anyone to become their own Barista and comes in a stylish Red and stainless steel combination, to co-ordinate beautifully with the new Bella Kettle and Toaster range. There's a host of great features that will produce double or single shots of espresso, deliciously frothy cappuccino, or even a frothy hot chocolate nightcap. RRP £74.99.

Bella Chrome High Power Whole Fruit Juicer
Juicing is on-trend and time-starved consumers will love how this powerful 1000W Bella Juicer takes whole fruit without pre-chopping. So, whether it's a juice to go first thing, or an array of party Mocktails for friends, this High Power Whole Fruit Juicer is guaranteed to make juicing fun - and is so easy to use. Its stylish chrome design, with fewer parts and smooth rounded surfaces also makes it easy to clean. RRP £149.99.

The Bella product collection will initially be exclusively available in Argos stores for Autumn/Winter 2014. New product launches are set to follow in early 2015, to further enhance the Bella range and build on its success.

Watch this space...

Note to Editors:
For further information, images, or product loan please contact Dianne Kenyon at dk@diannekenyon.com or 07891 225 352. The Bella brand (part of the MPL Home Group) includes a range of innovative, time-saving electrical kitchen products that are both great to look at and fun to use. Find out more at www.bellahousewares.co.uk, twitter.com/bellalifeuk, facebook.com/bellalifeuk, pinterest.com/bellalifeuk, instagram.com/bellalifeuk.
MPL Home produces and markets a wide range of leading home electrical and haircare products, together with a wide range of home furnishings.

Visit www.mplhome.com for more information.