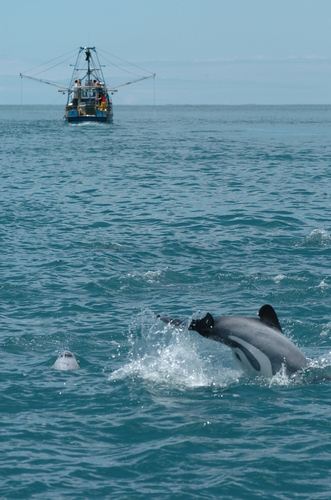 Embargoed until midnight between Tuesday 22 January and Wednesday 23 January (NZDT)/Tuesday 22 January 11.00am (GMT/UTC)

EARTHRACE PROVES MARINE MAMMAL SANCTUARIES IN NEW ZEALAND ARE A JOKE

In the UK in December, the Government agreed to introduce 31 new marine conservation zones – well below the 127 recommended by environment organisations. If what Earthrace has uncovered in New Zealand ( '100% pure' according to its own much hyped self-promotion) is echoed by Government inertia here, Earthrace has serious concerns about how well protected UK marine life will be.

Pete Bethune and Earthrace New Zealand recently received information about vessels fishing in a manner that is very likely to lead to already critically endangered Hector's dolphins (endemic to South Island New Zealand) being killed in fishing nets in the Banks Peninsula Marine Mammal Sanctuary.

Current estimates are that only around 1,000 of the dolphins remain...
Read full release