New Breed Identified in Staffordshire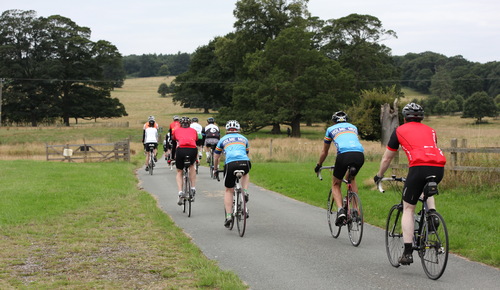 Residents in Staffordshire are reporting a number of sightings of a rare breed of animal making tracks across the Staffordshire Peak District.

These sightings are the first of their kind and have increased significantly over the last week. Their natural habitat seems to be on steep climbs and they have been known to travel large distances of up to 200 km on some days.

Residents have reported that many of them have a distinctive look including smooth and shiny legs and in general are lean in physique but with some carrying excess weight.

A number of experts have been called to the county to identify the species.

Graeme Whitehead of Destination Staffordshire said: "We are currently working with the teams to understand their natural behaviour and ensure that we can sustain an environment in the Staffordshire countryside that they can thrive in."

The experts have named the breed Mamils (Middle Aged Men in Lycra) and it is thought that the influx has been due to good weather and a range of cycle routes across the county which help them to build muscle and raise their heart rates.

It is claimed that the breed has flocked in ahead of this weekend's Grand Depart, an annual event known by experts as the Tour de France. This mass migration to UK shores does not happen every year and it is believed it will attract thousands of Mamils across the weekend.

Sue Prince from Beechenhill Farm said: "This is not the first time rare breeds have been sighted across Staffordshire. We do have our very own wallabies which were brought to the county a number of years ago, although they are now rarely sighted on the Peak District."

The Staffordshire Cycling Festival in August will also give residents and visitors another opportunity to spot the Mamils.

For more information, please contact the Enjoy Staffordshire press office on 01743 234 224.