New range of FLAT table bases launched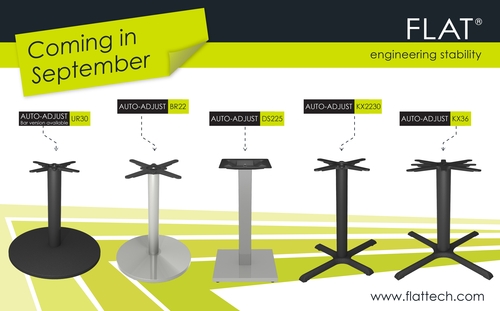 Strong, worldwide customer demand for the best solution to wobbly tables has led to an extension of the product range of FLAT® Pty Ltd.

The release of five new self-stabilising table base styles in September is FLAT's largest range update and reflects the growing market for their patented products.

FLAT's hydraulic technology benefits users of FLAT® table bases by stabilising the table on uneven surfaces, instantly. The hydraulics located in the table base also allows users to align multiple table tops seamlessly which provides greater flexibility to the user.

As well as releasing these new products, FLAT is renaming the existing product range (effective September 1st) to better reflect the product features.

Each product will be pre-fixed with the term AUTO-ADJUST and the product names reflective of the product family name, shape and sizes.

FLAT's extended range of products will include both square (DX225) and round stainless steel (BR22) bases. These stylish bases have been specially developed to meet the demands in Europe and South America in particular for products with a metallic finish.

Other products to be introduced by FLAT include an extension of their cast iron, KX (previously Kirribilli range) and UR ranges (previously Ulladulla). The new KX range will include new KX22" x 30" and KX36" table base options allowing proprietors to cater for larger groups and benefit from having FLAT technology underneath the table base.

The UR (previously Ulladulla) range will include a new 30" round, cast iron base which will also be available in a bar height option.

Products are expected to become available from September following extensive R&D and testing phases. Distributors of FLAT products can be found in over 32 countries and are listed on the FLAT website.

Further information is available at the Flat Tech website.

For more information, or to arrange an interview or photo opportunity, please contact:

Andy O'Donnell (FLAT's Marketing Manager) by email – AndyODonnell@FlatTech.com.