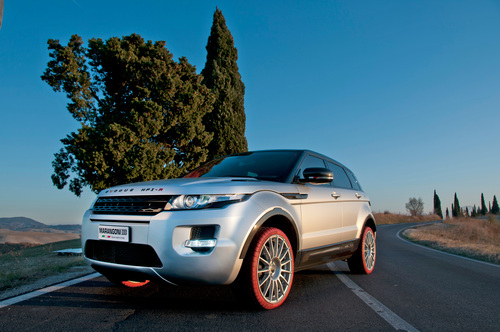 Marangoni Tyre, the manufacturer of '100% Made in Italy' car tyres, has continued to communicate its focus on research, the environment and sport through for the fifth consecutive year by transforming the desirable Range Rover Evoque into a breath taking demonstration car – a project of style.

• Elegance, fashion and sport, combined with friendliness to the environment, define the Marangoni Evoque HFI-R, the Italian tyre manufacturer's latest show car.
• The Marangoni Evoque HFI-R will be previewed at the upcoming Motor Show in Bologna (Italy), from 3 to 11 December 2011.
• Marangoni has developed 'M-Power EvoRed', a special set of 20" ruby red coloured tyres, especially for this new show car.

Taking unarguable Italian style to improve on car that has already gained fans across the world is a challenge that reflects Marangoni's desire to continuously test design...
Read full release