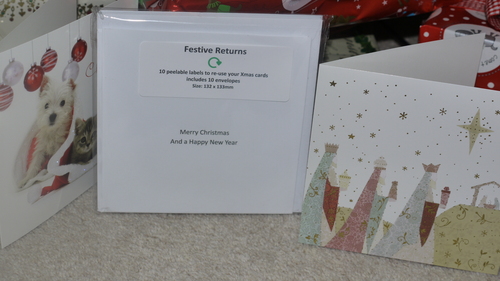 A Kent woman has developed a product to reuse old Christmas and greetings cards and still make a donation to charity.
Gabrielle Argent from Tunbridge Wells says the idea for 'Festive Returns' and 'Greeting Returns' was a light-bulb moment, and stockists and charities are already showing interest.

Each pack has 10 pre-printed or blank labels with envelopes for reusing and resending previously received greeting cards. A special adhesive on the opaque label makes it easy to attach. Attractive cards can now be salvaged and enjoyed by someone new. The pack retails at £2.70 with a donation to charity, and different sizes will soon be available.

"No one likes to see beautiful cards go for pulp recycling, there is so much life left in them. I love the fact we can truly recycle the cards we have enjoyed and put a smile on someone's face with the sentiment which says – I care about you and I care about the environment." She says.

The...
Read full release