The Sick Report: New study reveals exactly when, why and how often we call in sick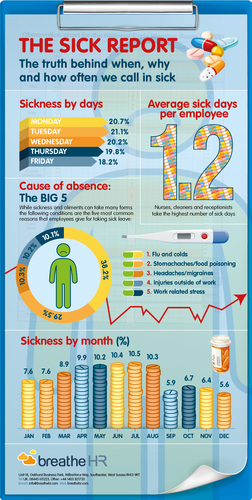 A new study conducted by online HR software provider breatheHR, has lifted the lid on sick day absenteeism in the workplace, by examining exactly when, why and how often employees in small to media sized businesses call in sick.

Based on over 15,000 sick days taken during the last 12 months by employees in businesses across the UK, the Sick Report reveals insights into the aliments that keep us off work, indicating trends in job roles, days of the week and how employees at SMEs compare to larger companies. .

Weekends make us sick
The start of the week sees the largest number of sick days, which may not come as much of a surprise. What's interesting is that Tuesday is the most common day for employees to call in sick, accounting for 21.1% of days taken, closely followed by Monday at 20.7%. Our health then slowly improves throughout the week with just 18.2% on a Friday.

Causes of sickness: The Big Five
While sickness and aliments can take many forms the following conditions are the five most common reasons that employees give for taking sick leave:

1. Flu and colds 38.2%
2. Stomach aches/food poisoning 29.5%
3. Headaches/migraines 10.3%
4. Injuries outside of work 10.2%
5. Work related stress 10.1%

While it's probably no surprise that colds and flu top the list of aliments, what is concerning is the significant number of employees that are unable to work due to stress.

Other reports
http://www.hse.gov.uk/statistics/causdis/stress/stress.pdf

The summer sun is bad for our health
Despite vitamin D from the sun purportedly being a great immune system booster, the Sick Report found that the months with the highest volume of sick days were actually June (10.4%), July (10.5%) and August (10.3%), with our health improving inline with the end of summer. Despite all the excesses of the festive season, we appear to be at our healthiest during December which has the lowest figure at just 5.6% (full findings on the infographic).

Average days per employee are low
During the last 12 months the Sick Report indicates that the average number of sick days taken per employee stood at just 1.2, which is in stark contrast to the 9.1 day average reported byPriceWaterhouseCooper back in July.

There are reports of a 'work while your sick' culture existing amongst SME employees. This may be down to the fact that job security is still a big issue following the recession, while the small team structure may make some employees feel that they are letting the team down if they take time off.

This theory is certainly backed up by the relatively high number of sick days recorded as result of work related stress; which the Sick Report has found effects 1 in 10 SME employees.

Commenting on the findings, Jonathan Richards, CEO, breatheHR, said: "Seeing the data from over 15,000 sick days highlight some really noticeable trends which small business owners are certainly going to find interesting.

"While I was surprised with the alarmingly high number of days taken as a result of stress, it is reassuring however that teams within small businesses certainly seem more committed to each other and the business than those in larger organisations, which bodes well for the economic recovery of the country."

ENDS

For to request The Sick Report infographic or any additional information, please contact:

Steve Green
Giant PR
steve@giantpr.co.uk
07775677101
01273 245460

About breatheHR
Launched in 2012, breatheHR is a web based as software as a service (SaaS) product, which helps small businesses build, motivate and retain great teams through the use of smart technology.

breatheHR supports over 7,500 employees within SMEs across the UK and internationally.
By using breatheHR's intuitive HR system clients are liberated from using time consuming spreadsheets and wall charts to manage their employees, allowing the system to simplify and automate many HR tasks including holiday booking, absence management, appraisals and the secure storage of employee documents.
The system allows staff to 'self serve' when booking holiday and accessing their HR documents. As a result, small teams have more time to focus on growing their businesses as the admin involved in managing people is significantly reduced.
breatheHR's cost-effective pricing plans are tailored according to the number of employees and start at just £19 a month.

breatheHR has an extensive client base of businesses across the UK, which are largely digital, creative and tech companies including Brandwatch, Crunch Accounting, The Marketing Eye, PVL UK Ltd, PushOn Ltd and TekExpress.
breatheHR is owned by Centurion Management Systems who have been producing HR software systems since 1996.