FRONTCOVER CULT SELL-OUT MAKE-UP SET RAINBOW EYES IS BACK!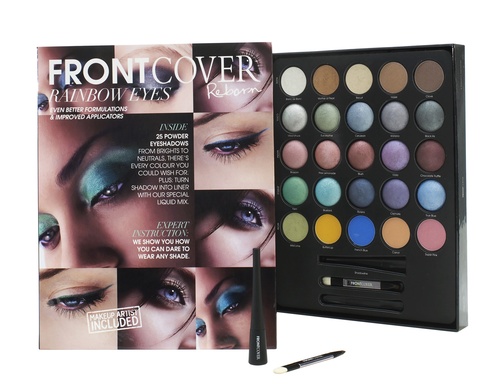 Best-selling product back in Boots after consumer petition prevails…

Frontcover Cosmetics' cult Rainbow Eyes make-up set went into Boots as a limited edition product in winter 2008 and immediately sold out, flying off the shelves at a rate of more than 1000 per week in some stores before exchanging hands on Ebay for up to three times the price!

Both Boots and Frontcover have been inundated with requests for the set ever since, and an online petition (signed even by Neve Campbell) has resulted in its limited edition reincarnation as Rainbow Eyes Reborn - in Boots from February 23 due to popular demand. To celebrate the re-release of such a popular product Rainbow Eyes Reborn will be on sale in Boots stores at a special introductory price of £15 rather than its usual RRP of £30.

Vogue magazine has named rainbow eyes as one of the looks of the season, and this is the one product you need to give you that look. Rainbow Eyes Reborn features 25 directional colours, 20 of which are baked formulations known for their exceptional iridescence. The pack includes new improved applicators and Shadowline - a revolutionary product that turns any eyeshadow into eyeliner – as well as uniquely, a "make up artist included", in the form of advice from cosmetics expert Leanne Shaw on how to produce different looks with the make-up.

"It is normally a limited edition fashion trend-led range," explains Frontcover co-founder Liz Wilkinson, "but Rainbow Eyes has become so iconic and demand has been so high we are re-releasing it."

The Frontcover range takes each season's catwalk trends and turns them into ready-to-wear make-up collections – further brand new products will follow in summer so watch this space for details. Frontcover will now be available to buy in Boots 12 months of the year!

Rainbow Eyes Reborn will also feature on the new TV series Kitchen Sink to Catwalk, airing February.

NOTE TO EDITORS:

Frontcover comes from Gingerlily Cosmetics, the brand development company whose clients include Chilli Pepper make-up and Tara Smith haircare among others. This is the first brand that Gingerlily founder Liz Wilkinson and Design Director Michelle White have created from scratch drawing on years of experience working with the likes of Revlon, Max Factor, Mary Quant, St Tropez and Boots.
Rainbow Eyes Reborn will be available from Boots stores at a special introductory price of £15 from 24th February 2010 to 23rd March 2010 – usual price £30.

Frontcover is on sale at Boots stores nationwide and online – for your nearest stockist call 0845 070 8090 or go to http://www.boots.com
For news on Frontcover visit http://www.frontcovercosmetics.com

For expert quotes, images or more information on Frontcover please contact: Lucy Freeman at Gloss Communications on 020 8527 2531/ 07940 716 060 or lucy@glosscommunications.co.uk.