Probability of a euro zone break up has been lowered from 40% to 30% according to the EIU's latest global forecast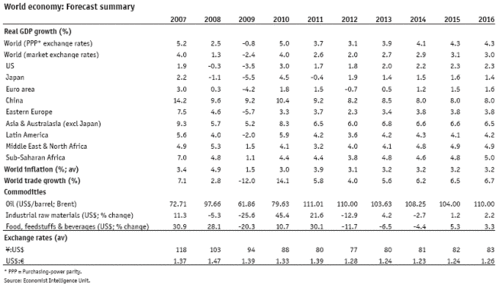 • World Economy – The Economist Intelligence Unit forecasts world GDP to grow by 3.1% at purchasing-power parity in 2012. The world's largest and most advanced economies will, as a group, expand by little more than 1% this year. World GDP growth will pick up to nearly 4% in PPP terms next year, as the euro zone returns to growth and as emerging markets regain momentum.

• Developed World – The Economist Intelligence Unit has lowered the probability of a break-up of the euro zone from 40% to 30%. The existential threat to the single currency has not passed. A break-up of the euro zone would lead to a depression in Europe and a serious recession for the rest of the world. The EIU has revised its GDP forecast for 2012 in the euro zone to a 0.7% contraction from a fall of 1.2%.

• United States – The Economist Intelligence Unit maintains its forecast for real GDP growth of 1.8% in 2012. The US economy is showing progress on numerous fronts, and is now clearly in no immediate danger of renewed recession unless the euro collapses.

• Japan – The Economist Intelligence Unit's forecasts Japan to grow by 2% this year after largely overcoming the disruption to supply chains that crippled its economy in the wake of the natural disaster in March 2011.

• Emerging Markets – The Economist Intelligence Unit forecasts regional economic growth in Asia and Australasia (ex Japan) to slow from 6.5% in 2011 to 6% this year. Yet the region will remain the fastest-growing, largely because China is unlikely to experience a hard landing.

The Economist Intelligence Unit expects India GDP to expand by just 6.3% in 2012, although growth will rise above 8% again thereafter.

Eastern Europe regional growth will slow from 3.7% in 2011 to 2.3% in 2012. Several countries-including Hungary, Slovenia and Croatia – are likely to tip into recession.

Latin America faces a second year of economic slowdown in 2012, with regional growth set to weaken to 3.6% in the context of contracting demand in the euro zone and tepid US growth.

Economic growth will accelerate in the Middle East and North Africa in 2012, bucking the trend elsewhere in the emerging world. The regional recovery post impact of Arab revolutions should gather pace in 2012, as still-high oil prices, expansionary fiscal policy, massive infrastructure development in Saudi Arabia and growth in Libya boost regional GDP by 4%.

Sub-Saharan Africa regional GDP growth will slow from 4.4% to 3.8% this year as economic prospects for most countries are worsening as the West stumbles and China slows.

• Exchange rates–The Economist Intelligence Unit forecasts the dollar to strengthen on average against the euro this year, to US$1.28:€1 due to the US's better growth prospects, and differences in its monetary-policy outlook compared with the euro zone.

• Commodities– The Economist Intelligence Unit has raised its forecast for the average 2012 price of dated Brent crude oil to US$110/barrel from US$100/b. This reflects the supply risks hanging over the market.

Global Economic Forecast, March 2012
is available at http://gfs.eiu.com

Press enquiries:

Jennifer Cole, Grayling. Tel: +44 (0) 207 592 7933. Mobile: +44 (0) 795 742 5935

About the Economist Intelligence Unit

The Economist Intelligence Unit (EIU) is the world's leading resource for economic and business research, forecasting and analysis. It provides accurate and impartial intelligence for companies, government agencies, financial institutions and academic organisations around the globe, inspiring business leaders to act with confidence since 1946. EIU products include its flagship Country Reports service, providing political and economic analysis for 195 countries, and a portfolio of subscription-based data and forecasting services. The company also undertakes bespoke research and analysis projects on individual markets and business sectors. More information is available at www.eiu.com The EIU is headquartered in London, UK, with offices in more than 40 cities and a network of some 650 country experts and analysts worldwide. It operates independently as the business-to-business arm of The Economist Group, the leading source of analysis on international business and world affairs.