New Organic Make-Up, Inspired By Nature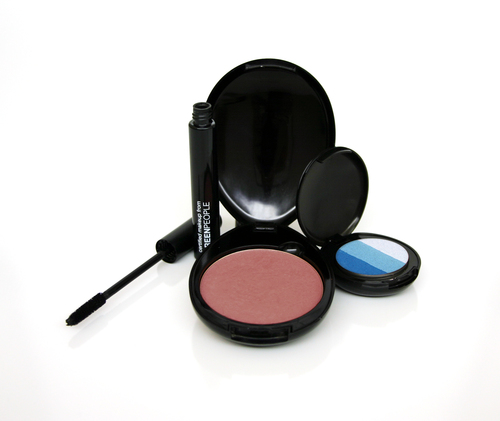 • Certified Organic
• Does not clog pores
• Minerals reflect light for a flawless look
• No mineral oils, Propylene Glycol or Mercury

Why feed skin with artificial colours that look harsh against skin and a cocktail of synthetic chemicals that clog the pores and can cause dry patches and skin irritations? Did you know that foundation can harbour up to 24 man-made chemicals and we ingest around 4-6Ibs of lipstick in our lifestime? Green People's certified organic mineral make-up is a breath of fresh air as it's just like 'organic food for your skin' - harnessing the best ingredients nature can provide to nurture skin!

Green People's new collection additions provides the finest organic Shea and Cupuaçu butters, Beeswax and Jojoba oil to nourish and protect skin. Natural rock minerals add subtle shades and tones that have been inspired by the hues of nature to provide the perfect palette for every complexion. The beauty of minerals is they reflect light to give a soft and sophisticated glow. The combined result is soft, radiant skin that is cared for naturally!

Certified organic by Ecocert, you won't find any chemical 'nasties' in this pure, natural collection which is suitable for all skin types, even the most sensitive and those prone to acne, eczema, psoriasis or rosacea.

NEW! Eco Eye Trio
Eco Eye Trio contains three shades that will bring radiance to every skin tone. Use seperately or combined for that perfect smokey eye effect that will take you effortlessly from day to night. Crease-free and 100% gentle for the delicate eye area, made without Propylene Glycol, Parabens, Petrochemicals or Phthalates.
Available in Smokey Grey, Aqua and Plum, £17.99
NEW! Pure Blush
Highlight cheeks naturally without any harsh artificial colours, Carmine (crushed beetles) or mineral oils for the perfect pink or peachy glow that will instantly transform your complexion!
Available in Rose Pink and Peach, £18.99

NEW! Volumising Mascara – Brown-Black
Define eyelashes with this fabulously rich, non-smudge brown-black mascara. There's no Petrochemicals or Phthalates, just natural Shea butter and Almond oil to condition lashes for a volumised effect that lasts all day.
Available in Black and new Brown-Black, £13.99

Charlotte Vøhtz, Founder, Green People says, "If you want a naturally beautiful complexion always avoid synthetic chemicals such as Propylene Glycol, PEGs, Mercury, artificial colours and perfume which strip the skin's natural oils and can often lead to dry skin, reactions like itchy, watering eyes and skin allergies. Nature provides us with highly effective ingredients like Beeswax which creates a protective barrier to retain moisture in skin and lips, and plant-based nutrients and enzymes which nourish skin without blocking the pores, resulting in a radiant complexion"

For flawless beauty, check out the full range of Green People mineral make-up products at www.greenpeople.co.uk or call 01403 740350.

Green People's new collection additions will be available from early November 2010.

- Ends –

For more information, images or product samples please contact:
Liz at Green People, liz@greenpeople.co.uk or Kristine at Feel Good PR, Kristine@feelgoodpr.com

Note to Editors:
Green People Organic mineral make-up is made without Parabens, Bismuth Oxychloride, Phthalates, Propylene Glycol, PEGs, Mineral Oils, Synthetic fragrances and colourants to bring you the purest make-up nature can offer.

Did you know…
• Blushers can contain crushed beetles! 'Carmine', 'Cochineal' or CI75470 is a red pigment used in blushers and lipsticks. Consider this, it takes 70,000 insects to make one pound of cochineal dye!
• Mascara may contain Mercury! Legally allowed as a preservative, it can accumulate in the body over time. Toxicologists worldwide recommend avoiding it wherever possible
• Foundation can harbour 24 different chemicals! Amongst them Polymethyl methacrylate, which adds a soft and smooth feel but worryingly is linked to disrupting the immune system and causing skin allergies.
• Propylene Glycol is a main ingredient in anti-freeze! A known skin irritant found in foundation, lip products, eye shadow and mascara
• Bismuth Oxychloride is found in many mineral make-up brands. Although a natural by-product, it can often cause itching, rashes and mild to severe cystic acne

Nourish, protect and energise skin with these key properties...
• Minerals: Zinc Oxide is anti-inflammatory so any blemishes or redness are reduced as you conceal them. Titanium Dioxide provides a natural physical sunblock, Iron Oxides provide colour naturally without the skin irritations!
• Antioxidants (Vitamin E) - Shea Butter, Tocopherol and Sunflower oil offer natural antioxidant properties, helping to protect against free-radical damage - one of the main causes of premature skin ageing.
• Omega-6 - Sunflower oil and Almond oil are good sources of Omega-6 essential fatty acids.
• Beeswax creates a protective barrier to retain moisture in face, lips and lashes! As well as keeping the skin soft it also reduces Trans-Epidermal Water Loss.