Organic and Ethical Valentine's Gifts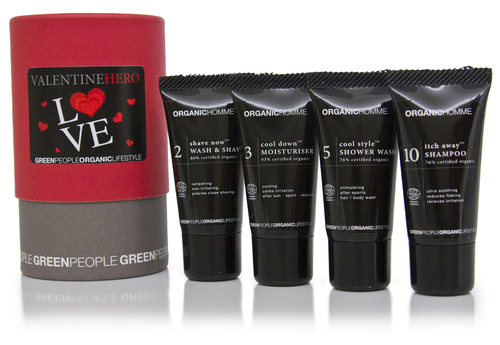 • Natural essential & plant oils for beautiful skin
• Gorgeous aromas with aphrodisiac properties!
• Certified organic & fairly traded – a great ethical gift

Did you know that Ylang Ylang and Sandalwood are two of nature's most powerful aphrodisiacs and increase attraction between lovers? This Valentine's Day, organic skin care experts, Green People, offer three luxurious gifts made with exquisite organic essential oils, plant extracts and fairly traded ingredients, to pamper your loved one's skin, leaving it feeling alluringly soft. And there's nothing more seductive than skin that's silky smooth to the touch!

Beautiful gifts for her...
Organic Love - A pampering facial £24.99
Fall for this pair of organic face treats made with the sensual scents of Sandalwood and Rose Geranium! Vita Min Fix (50ml) daily moisturiser is bursting with vitamins and nutrients to deeply nourish the skin, whilst Fruitful Nights (50ml) 'magic' night cream harnesses the power of fruit to rejuvenate and reveal a fresh, radiant complexion.

Sweetheart Eyes - Natural minerals create beautiful eyes £29.99
Any natural beauty will love this gorgeous organic mineral make-up duo to enhance eyes without the use of artificial colours. Eco Eye Trio – Plum contains three subtle shades to bring radiance to every skin tone. The fabulously rich Volumising Mascara–Brown-Black is made with shea butter and almond oil to condition lashes for a volumised effect that lasts all day.

Organic Homme, the first and only certified organic range for men...

Valentine Hero - All your man needs for healthy skin £19.99
Spoil your hero with this stylish set of mini grooming essentials. The active organic ingredients include the potent aphrodisiac Lavender and Ylang Ylang oils, which soothe skin after shaving, energise and moisturise the body and leave hair clean and shiny – naturally! Contains; "Shave Now" Wash & Shave, "Cool Down" Moisturiser , "Cool Style" Shower Wash and "Itch Away" Shampoo (30ml)

Green People's Natural and Organic Valentine's gifts will be available from 24 January at www.greenpeople.co.uk or call 01403 740350

For images, samples and further information please contact: Liz Chapman, liz@greenpeople.co.uk (01403 740370)

Did you know?
• Lavender is a potent aphrodisiac for men and is powerful in balancing emotions, calming and charming!
• Ylang Ylang is one of nature's most powerful aphrodisiacs - it increases attraction between lovers
• Sandalwood is a sweet, exotic scent with strong aphrodisiac qualities and enhances sensuality

NOTE TO EDITORS
Pioneers of Organic Health and Beauty!
"Green People was formed to provide truly natural and gentle organic formulations for my daughter Sandra, who suffered from severe skin irritations. The company was launched in the UK in July 1997. Today we offer over 140 products with dedicated hand-made ranges for women, men, teens, children and babies including sun and dental care ranges. Over 100 products are certified organic by either The Soil Association, Ecocert or Organic Food Federation. Our commitment is to expand our range of certified products." Charlotte Vøhtz, Founder
10% of net profit is donated to organic and environmental charities.
We use
100% gentle, 100% vegetarian, 100% cruelty-free ingredients. Certified Organic plant oils, herbal infusions, essential oils, natural minerals and fairly traded ingredients.
We don't use
Parabens, Propylene glycol, Lanolin, Sodium lauryl/laureth sulphate, Phthalates, Urea, PEG's, DEA, TEA, Petrochemicals, PABA-sunscreen, irritating emulsifiers, synthetic colours, or perfume.

About our fairly traded ingredients

We love knowing where the natural ingredients for our beauty products come from and how they're made. We feel that what we buy should have a positive effect on the communities and the environment from which it came. Our suppliers have projects in place that build up rural infrastructure, focus on education, provide fair wages and healthcare. Rose geranium, Ylang Ylang and Lavender are just some of the organic essential oils that we source from fairly traded communities around the World.