Australian TV chef launches summer cookbook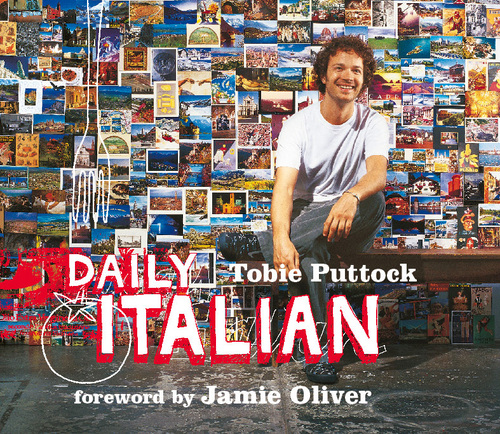 DAILY ITALIAN
By Tobie Puttock
Foreword by Jamie Oliver
Publication Date: 20th June 2007
TOBIE WILL BE IN LONDON 18-22 JUNE
Price: £20.00

"One of the best chefs I've worked with." Jamie Oliver speaking of Tobie Puttock

Launch head chef at Jamie Oliver's Fifteen in London, and now head chef at Fifteen in Melbourne, Tobie Puttock cooks delicious Italian food made with the best produce and prepared with care. His love affair with Italy flourished as he cheffed his way across Europe, working 18-hour days in Italian kitchens where he learned the principle of great Italian cuisine: that cooking is, if nothing else, an act of love.

Daily Italian is the first book from Australian chef, rising star and young food guru, Tobie Puttock. It is a compilation of Tobie's favourite Italian recipes created and collected during his already prolific career in celebrated restaurants such as the River Cafe and Fifteen. The book, both in terms of the food and the look, has an energy, individuality and edginess that is contagious – just like Tobie himself.

From crumbed swordfish with rosemary or chilli and sausage and fennel risotto to fried mozzarella with saffron or chocolate and olive oil tart, these are superb recipes, rooted in classical Italian cooking, but adapted to be extra generous and easy to prepare.

For further information please contact:

Fiona Smith at Mitchell Beazley on 0207 531 8489 or email: fiona.smith@octopus-publishing.co.uk

TOBIE PUTTOCK is now Head Chef of Melbourne's Fifteen which opened in June 2006. Tobie regularly makes TV appearances and has appeared on numerous shows, including Jamie's Kitchen and most recently at the forefront of Jamie's Kitchen Australia. He was a regular on Australia's longest running morning show Channel 10's Good Morning Australia and is also a regular on Australia's Ready Steady Cook, and is now one of Australia's most high profile celebrities.