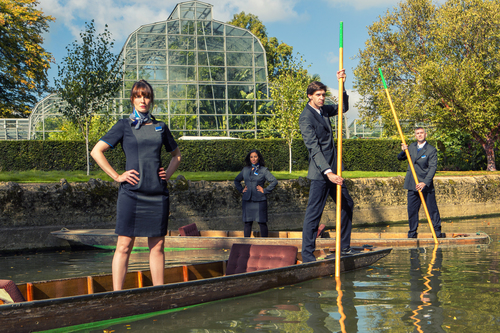 Chiltern Railways will be bringing a little of Oxford to London and making history when they open the first new rail line between a major British city and London on 26th October, the first in over 100 years. To gear up for the launch of trains from Oxford Parkway to London Marylebone, staff have been putting their stylish new uniforms to the ultimate fashion v's practicality test, a punt on the city's iconic River Cherwell.

Punting is the traditional method of transport used on Oxford's city river and with the finishing touches being put on the new line, which opens on Monday 26 October, the staff at Chiltern Railways gave unexpected tourists a 'rail' surprise by offering a free punt ride, whilst showing off their uniform on the impromptu 'puntwalk', in perfect style ready for the new direct line from central London to designer fashion outlet Bicester Village.

Customer Service Ambassadors Kat Cox, Shaun Dawson and Ahlam Ajjot joined Station Manager Rob...
Read full release