Great Christmas offer for over 400 National Lottery supported heritage sites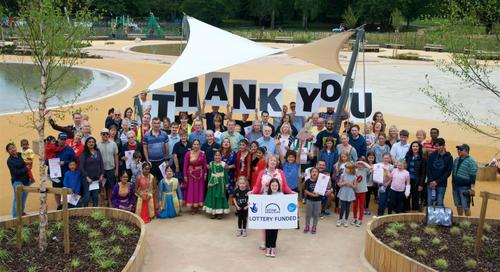 11-17 December 2017 – As a 'thank you' for their funding, more than 400 National Lottery-funded heritage attractions across the UK are opening their doors for free or offering other treats or discounts for anyone arriving with a National Lottery ticket or scratchcard.

Participating organisations include: The National Trust; RSPB; Wildlife Trust; Woodland Trust; Chatsworth; Royal Academy; Lincoln Cathedral; The Roman Baths, Bath; The National Library of Wales; and Portsmouth Historic Dockyard. Offers vary so please check The National Lottery website from the beginning of December for more details and a list of attractions taking part. www.national-lottery.co.uk #ThanksToYou

For further information, contact Katie Owen, Heritage Lottery Fund press office: (020) 7591 6036 katieo@hlf.org.uk

Notes to editors
1. Without National Lottery players, the pounds sterling 7.7billion of funding awarded to more than 42,000 heritage projects since 1994, would not be possible. As a way of saying 'thank you' this Christmas, selected visitor attractions that have received funding from the Heritage Lottery Fund are taking part in a co-ordinated week of free offer heritage activity from 11-17 December. Some, including those that already have free entry, are offering an alternative, e.g. a free coffee, guided tour, gift shop discount etc.

2. People arriving with a National Lottery ticket or scratchcard will be able to take advantage of the free offer, although some limits may apply. Times and details of the free offer may vary. Check with participating attractions.

3. Not every Heritage Lottery funded venue will be taking part in the promotion. So, to avoid disappointment, if you are unsure whether a venue near you is taking part, check their social media and website. If you are in any doubt, please call them in advance to confirm.

4. Organisations are still signing up to participate. Currently there more than 400, but the final figure is yet to be determined.

5. Examples of free offers include: free entry at selected National Trust properties on Wednesday 13 December; free entry to the Roman Baths, Bath, on Wednesday 13 December; free entry to Portsmouth Historic Dockyard for the whole week (11-17 December); a free hot beverage at Stonehenge for the whole week; and a free tree giveaway at the Woodland Trust's Skipton Woods Christmas Fayre in the Yorkshire Dales.