HostelBookers winter sale offers huge savings on top hostels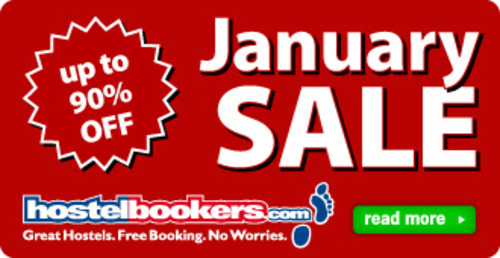 (London, 7 January 2010)

Today leading budget accommodation provider HostelBookers.com is launching its biggest ever winter sale (up to 90% off properties and hostels in our top destinations).

The 24-day promotion will suit the New Year whims of every type of budget-conscious traveler, offering up to 90 per cent off everything from sun-drenched beach breaks in Koh Samui to snow sport getaways in the Italian Alps and Dolomites of South Tirol.

The January winter sale will feature discounts off 369 hostels and budget hotels throughout 91 towns and cities in 28 countries, and is valid for travel booked between 7 - 31 January 2010 and completed before 31 March 2010.

Splitting the featured properties into four categories, the sale will offer deals on accommodation for adventure travel; beach holidays; cheap city breaks and ski trips.

The most significant savings mean that city breaks to Ca' Contarini in often unaffordable Venice will be available from just £1.79 pppn (90 per cent off) and Vienna's Hotel Schild will be up for grabs from £32.23 pppn (60 per cent off).

Travelers looking for southern hemisphere sun and adventure in Durban, South Africa, can opt for 40 per cent off at Wavecrest Lodge, which will be available from £11.87 pppn. Bargain beach holidays will be found at the Edgewater Backpackers in Nadi, Fiji, which will start from £2.48 pppn (40 per cent off). For a discounted trip to the slopes, Hotel Astoria in Bled, Slovenia, will be bookable from just £21.99 pppn (30 per cent off).

A total of 14 properties will be on sale with a discount of 40 per cent off their normal price, opening up new year breaks to Athens; Durban; Florence; Koh Samui; Nadi; New York City; Paris; Port Elizabeth; Prague and Rome.

David Smith, chief operating officer of HostelBookers, said, "With the huge assortment of heavily discounted properties that HostelBookers is offering this month, everyone can afford to start 2010 with their ideal break.

"We're aware of the enormous range of travellers who now consider hostels and budget accommodation and their vast range of interests and requirements, so we've ensured a great range of quality properties which are clearly classified and will appeal to adventure, beach, city break or ski enthusiasts. Knowing that Britons are keen to continue watching their finances, but not stop travelling in 2010, our sale should hopefully enable travellers to realise several New Year's resolutions in one go."

HostelBookers features more than 17,000 hostels and budget properties in over 3,500 destinations across more than 150 countries, and is the only website in the industry not to charge a booking fee – its lowest price guarantee means that prices are on average 5.1 per cent less expensive than other well-known hostel booking companies.

- ENDS -

For further information please contact: Daniel Zbijowski on 020 7440 4931 or email Dan@Hostelbookers.com.

NOTE TO EDITORS:

About HostelBookers.com: Great Hostels. Free Booking. No Worries.
HostelBookers.com – launched in March 2004 – is a leading UK-based budget accommodation website. It offers a range of budget accommodation including youth hostels, hotels, B&Bs and apartments in over 3,500 destinations worldwide.

In November 2008 HostelBookers.com also received the UK's Best Youth Product award at the British Youth Travel Awards (BYTA) run by BETA (British Educational Travel Association). The awards, are designed to provide a platform to celebrate and reward high achievers, gain recognition, and raise the profile of the work and individual successes of organisations engaged in youth, student and educational travel, to from and within the UK. HostelBookers.com's properties are reviewed and rated by customers and it remains the only major company in its sector to offer its services with no booking fees. HostelBookers.com also provides a range of free travel guides, travel news and worldwide events information

If you would like to be a Hostelbookers partner, you can do so by joining our affiliate program directly by emailing HostelBookers or through the TradeDoubler and AffiliateFuture networks.