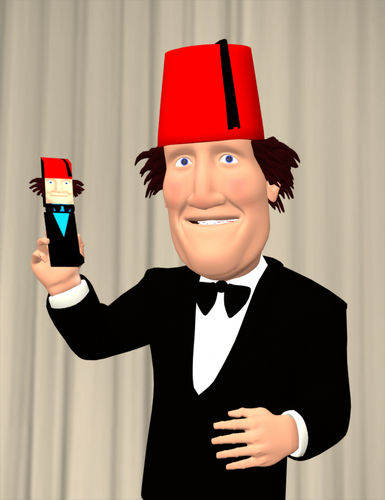 Tommy Cooper goes mobile – just like that.
(Well – its magic, isn't it?)

Today, the legendary funnyman whose iconic throaty chuckle spanned the comedic eras of Music-hall and TV, conquers a whole new performance platform – the mobile phone.

Nearly 25 years after his untimely death, Tommy Cooper is back in the action, in a caricature voice and cartoon performance, designed to put laughter at the forefront of the video ring-tone business.

Cartoon Tommy's mobile antics are the brainchild of entrepreneur film producer Alan G. Rainer, and his partner producer John Sealey
In their bid to create a money-spinner, mobile Tommy has received a complete cartoon makeover.

'There will only ever be One Tommy Cooper' said life-long Cooper fan Rainer. 'And this isn't him. Call him an affectionate tribute, if you like, but he's cute, he's funny as hell and I betcha Tommy would have loved him'.

The Rainer/Sealey...
Read full release