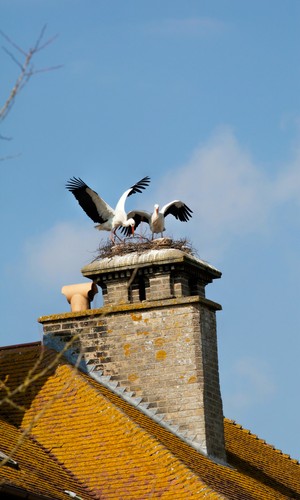 Excitement is mounting at Thrigby Hall Wildlife Gardens near Great Yarmouth. A pair of white storks has built a nest on one of the hall's 18th century chimneys. The white storks, part of the Wildlife Gardens' collection will, it is hoped, be the first pair to successfully breed in the UK for the first time in 600 years from a traditional stork nest.

The white stork breeds mainly in continental Europe, migrating to Africa in winter. The birds nest close to human habitation, often creating their nest on a chimney, rooftop or telegraph pole. The white stork is not a UK resident, although storks do visit our shores every year.

Ken Sims, Director of Thrigby Hall Wildlife Gardens, said: "We gave the storks a helping hand, by building a structure for their nest on the hall's front chimney, but they turned their back on our handiwork and have built their own nest on one of the rear stacks. They have definitely mated and are very busy, so we'll be keeping a...
Read full release