Heart-shaped biscuits from Loseley for Valentine's Day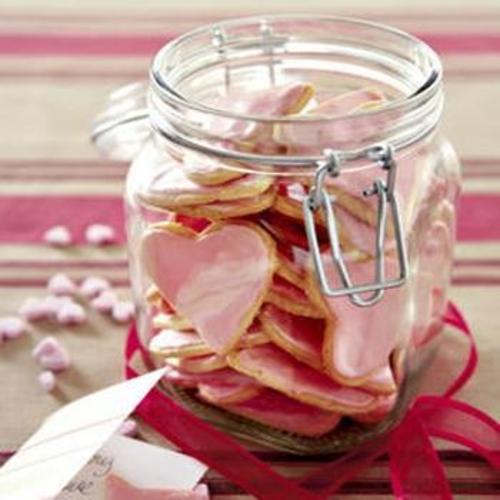 November 2010
For further information on Loseley products and samples
Including its butter, yoghourts and cottage cheese
Please contact Juliette Hellman
Telephone 020 8870 6665
Email: juliette@juliettehellmanpr.co.uk

Heart-shaped biscuits from Loseley

Ideal for Valentine's Day these heart shaped Loseley biscuits
will tempt the one you love

Ingredients

• 125g Loseley Summer Meadow Butter
• 170g caster sugar
• 1 egg
• 230g plain flour, plus 2 tsps
• 30g self-raising flour
• 5 tbsp desiccated coconut
• 1 egg white
• 240g icing sugar, sifted
• 2tsp lemon juice, approximately
• Pink food colouring

Method

Cream Loseley butter and sugar in an electric mixer until pale and fluffy. Beat in egg and then stir in sifted flours and coconut. Knead dough on a lightly floured surface until smooth. Roll between sheets of baking paper to 4mm thickness. Allow to rest in the fridge for about 30 minutes. Pre-heat oven to 160C. Line a baking tray with baking paper. Cut out heart shapes with a 5 cm-wide cutter and place on tray 1.5 cm apart. Bake for about 10 minutes or until pale gold. Cool on a rack. Place egg white in a bowl. Add half the icing sugar and combine. Stir in remaining icing sugar and 2 teaspoons flour. Add enough lemon juice to make a thick, spreadable icing. Tint with food colouring and spread on biscuits. Set at room temperature. Store in an airtight container.
Makes about 40 biscuits
Loseley Summer Meadow Butter is packed in a 250grm tub and costs £1.29p.

Loseley Chilled Foods are available from the chilled cabinet of local independent grocers, Morrisons, Waitrose and now Iceland. Visit www.loseley.com for more information.