Loseley Valentine Cupcakes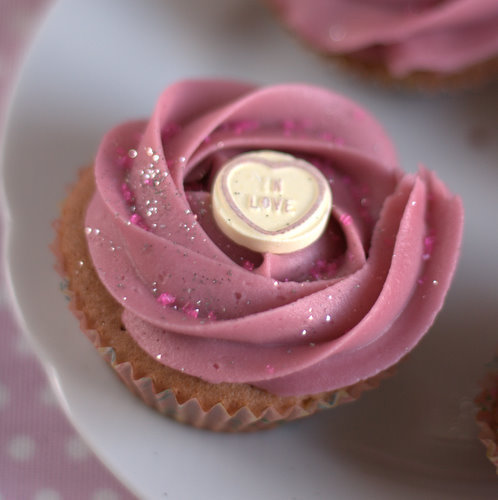 These little delights will bring an element of light, fluffy love and happiness to the table on the key date of the year to unlock all hearts
January 2012

For further information and samples re Loseley products
including butter and, yoghourts
Please contact: Juliette Hellman
Telephone 020 8870 6665
07768302323
Email: juliette@juliettehellmanpr.co.uk

Loseley Valentine Cupcakes

Give this Valentine's Day a twist of sheer loveliness in the form of Valentine Cupcakes with Loseley Summer Meadow Butter.

These little delights will bring an element of light, fluffy love and happiness to the table on the key date of the year to unlock all hearts.
(Makes 10 small cupcakes)

Ingredients:

For the Cakes:

Egg (free range please) 1
plain flour (or use self raising and omit the baking powder) 75G
Sugar 50g
Loseley Summer Meadow Butter 62g
Baking powder 1/2 tsp
Pixley Berries blackcurrant cordial 3 tsp
Pink food colouring (optional) few drops

For the Frosting:

If you will be spreading rather than piping your frosting you will need rather less.

Loseley Summer Meadow Butter 75g
Icing sugar 250g
Pixley Berries blackcurrant cordial 1 – 2 tbs

Method:

Add the eggs, butter, flour, sugar, baking powder & salt to a bowl and beat with a hand whisk until blended. Add the cordial and briefly mix again. The batter should be loose enough to dollop off a spoon.

Line a bun tin with fairy cake cases. Fill each case 2/3 with batter and bake at 190C / GM 5 for about 12 minutes.

Chef's Tip:

The secret to fluffy buttercream is to beat the butter really well before you add any sugar. The trick is to make the butter cream in the food processor to prevent the kitchen being covered in clouds of icing sugar. If you make it with a hand mixer you will need to add the icing sugar slowly to the butter.

Put the butter in the food processor bowl and process for a minute or so, until soft and fluffy. Pour in the icing sugar and cordial, put the lid back on and cover with a damp tea towel, and process again. Scrape the sides down adding more cordial or icing sugar if needed and process again.

Decorate your cakes, using sprinkles and love hearts.

Both raw cake batter and the frosting freeze well.

Loseley Summer Meadow Butter is packed in a 250g tub and costs £1.39p.

Loseley Chilled Foods are available from the chilled cabinet of local independent grocers, Waitrose and Ocado. Visit www.loseley.com for more information.