Prestigious awards recognise KC's use of technology to become leaner and greener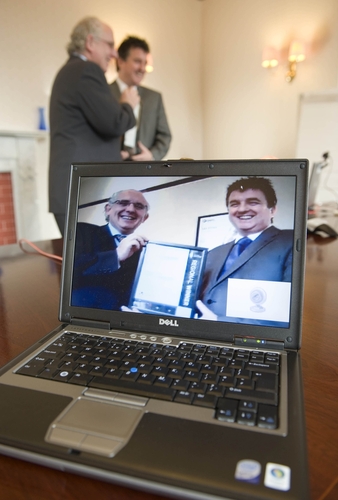 KINGSTON COMMUNICATIONS (KC) has won two top awards in recognition of its outstanding business achievements.

The communications technology specialist won both the Green Award and the Award for Innovation through Technology for the Yorkshire and the Humber region, in the British Chambers of Commerce's Awards 2008.

Part of the KCOM Group, KC demonstrated a number of strategic and technology-led environmental initiatives, including new desktop technology from Microsoft, which contributed to a weekly saving of 173,000 miles of car journeys and around 56 tonnes of CO2.

The technology, Office Communications Server (OCS), allows employees to hold virtual meetings through audio and video conferencing, send instant messages, see who is available and make telephone calls, all from their PCs.

Commenting on the Green Award, Paul Drummond, KC's sales director, said: "Our campaign to address the primary environmental impacts of waste materials and energy consumption has had startling results, with a huge reduction in CO2 emissions and waste going to landfill."

The award for Innovation through Technology focused specifically on the company's introduction of OCS.

Mr Drummond said that the technology has helped the company to meet its business objectives, not only by cutting costs, but also by improving the effectiveness and speed of internal communications, allowing staff to work together regardless of where they were based.

"Both these awards are recognition of KC embracing innovative new technology that has had a dramatic effect on business performance and environmental targets.

"We are so impressed with the benefits realised we are now helping our customers achieve similar results through the latest technology"

There were eight different categories in this year's annual regional awards, held in conjunction with Royal Bank of Scotland and in their fifth year. KC and the five other winners were then put forward for the national round of judging and the chance to win a top prize of £50,000. Although KC did not secure a place, three other regional finalists from the Yorkshire and Humber region scooped national awards.

Neville Reyner, president of the British Chambers of Commerce, said: "The winners represent the pinnacle of achievement in business. They serve to inspire those of us that have been in business for years and those embarking on the adventure of setting up their own company."

KC's ongoing environmental efforts have contributed towards KCOM's reduction in CO2 emissions from 20,705 tonnes in 2006/07 to 19,186 tonnes in 2007/08 – a drop of 1,519 tonnes of CO2, or 7.3 per cent.

ENDS

For more information please contact Anna Millar on:

T: 01482 602831
E: anna.millar@kcom.com

Photo caption: 7 November 2008: Paul Drummond (left) of Kingston Communications receiving an award from Stephen Shore, chief executive of the Doncaster Chamber of Commerce.