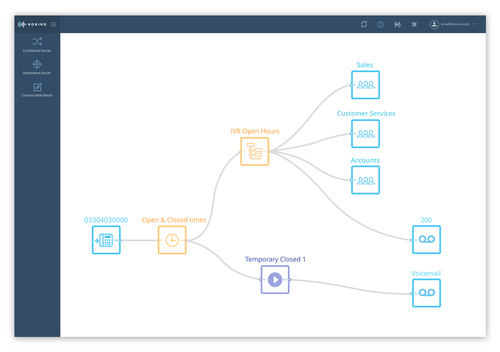 Easy-to-use cloud phone system reduces the burden on IT and business managers with intuitive controls and 'drag and drop' dial plan functionality

Foehn, the award-winning provider of cloud communications technology, has launched Voxivo, a new cloud phone system. Voxivo's design simplicity and innovative interface transforms crucial but often over-looked aspects of staff productivity amongst businesses of all sizes, by giving IT or business managers and employees alike easy control of key phone system management tasks that were previously denied to them.

With its highly-attractive and easy-to-use phone system interface, Voxivo marks a break with the uninspiring and over-complicated UK office phone set-ups of the past. It empowers companies to take administrative control of phone system performance, workflows and device configuration removing the need to rely on third-party telecoms service providers, and enabling companies' in-house IT managers or...
Read full release