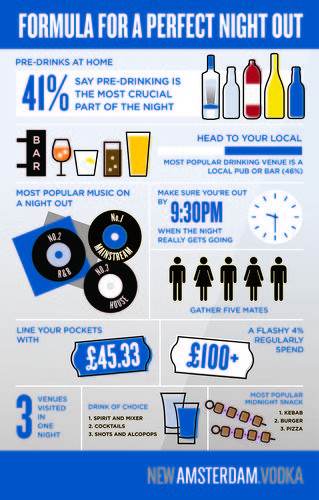 Many Brits like to wind down with a drink at the pub after work. But for Millennials, otherwise known as 'Generation Y', when it comes to the perfect night out, a simple pint down the pub no longer cuts it.

New research by New Amsterdam Vodka today reveals the ingredients for the best night out, whichever town you're in.

RECIPE FOR THE PERFECT NIGHT OUT:
Start with pre-drinks at home, before moving on to a local pub or bar at 9.30pm that plays mainstream music with five friends. Take £45.33 in your wallet to spend on spirit and mixers in three different venues as the night goes on. On the way home, pick up a kebab for the ideal end to the night.

The research was conducted to launch New Amsterdam Vodka's Project It's Your Town, a content series following Millennials in four party cities around the UK as they showcase their town, on their terms.

The study in to these partying habits incorporates responses from...
Read full release