Fun new bear encourages education, literacy and adventure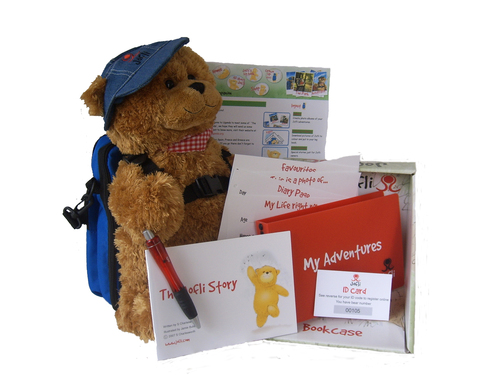 Many families will be setting an extra place at the dinner table this Christmas but not for Santa.

Designed to record your child's journey through their young life, Jofli Bear is a unique concept in character toys which aids education, literacy and encourages you and your family to get out of the house and do something worth writing about.

Not just a cuddly bear with a backpack, sumptuous Jofli is the perfect best friend for any young child wanting to record their adventures and travel experiences.

Made to the highest spec, this gorgeous bear encourages greater literacy and IT awareness whilst encouraging an interest in travel, different cultures and an appetite for exploration.

Included in the backpack is a Jofli bedtime story, a 34 page log book to record adventures, your child's favourite things, diary pages, photo cards and note pages together with their own Jofli pen. Secure website registration also allows access to your own family gallery with your own ID card. The Jofli gallery lets you record your family outings and travel experiences to share with friends and family whilst the membership area includes more bedtime stories of Jofli's own adventures and even colouring sheets for the budding artist. For the hungry explorers, the website includes fact sheets on different countries.

Creator of Jofli, Suzi O'Neill, had the idea years ago whilst working in Thailand. Her desire was to create a character who would promote learning through travel, adventure and gaining new experiences.
"I'm not just a travelling bear…" Says Jofli "…and not just a unique gift for children. I'm an educational toy and the perfect companion for all your family holidays and adventures. I have a logbook in my backpack, like a diary, scrapbook and photo album all in one which is a fantastic keepsake of all the places we travel and the memories we make. I'm motivational, I encourage children to read and write, and we can even share our adventures on my website" He continues.
Available online at www.jofli.com, Jofli can be that extra person at the dinner table this Christmas day. With next day delivery guaranteed, Jofli is available in 5 different colour ways from £29.99 whilst additional ring binders and insert pages can be bought from £3.99.

For more information, please contact Kim Johnson on 0845 230 1538 or at pr@littlehelper.co.uk

Notes to editors:

• 30cm high Jofli Bear, with logbook inside detachable backpack. Easy to carry around with the shoulder strap, and plenty of pockets for other items.

• The pages are loose leaf to allow creativity in creating the logbook. Diary, photo and scrap pages, can be bought separately along with extra logbooks. Includes pages to capture a snapshot of life right now, hopes and dreams, and set goals for the future. Jofli pen included.

• The Jofli Story book explains how he started his journey, and other online stories follow Jofli in some of life's adventures.

• Each bear has a production number, and ID card for online registration.

• Online extras give colouring and fact sheets to print and add to the logbook. The online
gallery is a secure space to create photo albums to share with friends and family out of town.

• The logbooks store in the book case to create a 'journey of life', great to look back on over the years.

• All bears are individually quality checked in the UK. They have been safety tested for children over 36 months to EN71 standard, and are CE marked.

• The design and concept is unique to Journey of Life Ltd, with a patent pending.