Innovative Toy Brand Krooom Offers an Eco-Friendly Alternative!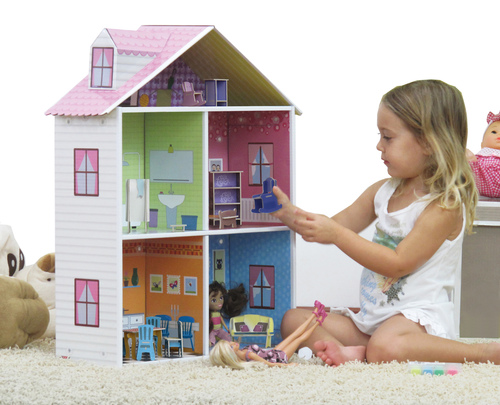 Release date: June 2011

New from innovative and multi-award winning children's brand Little Helper is the unique range of recycled and recyclable toy products by Krooom of Israel.

Masters of high quality cardboard engineering, Krooom, creates eye-catching toys and children's furniture with a difference. The unique range of eco-friendly products are made from recycled cardboard, offering extremely strong and sturdy products including playhouses, storage, and furniture items in stunning designs and colours for children. The genius of the Krooom designs ensures that the larger furniture items in the range are actually strong enough to hold the weight of a fully-grown adult when the furniture is assembled!

With dolls houses and fire stations with figures and accessories, as well as storage boxes that double up as tables with stools around them, the colourful collection has an item to suit any toddler's bedroom or playroom.

The concept of Krooom's high quality, affordable, sturdy and water-resistant cardboard products means that parents buy an item that they know will be long-lasting and strong, as well as recyclable and affordable. With retail prices ranging from £7.99 to £59.99 there will be products to appeal to all budgets.

One of Little Helper's main guiding principles is to offer products that are fun, funky and safe, and the Krooom range ticks all of these boxes. In addition to this Little Helper is working hard as a company to use more recyclable materials in its products and packaging.

The Krooom brand was brought to life in 2006 in Israel, and has since taken its concept of innovation in the toy market across the world, focussing on creating smart products tailored to the 21st Century. The products will be available in the UK and Ireland's leading nursery retailers from July 2011.


---ENDS---

Notes To Editors:

For information, pricing, images or sample requests contact Little Helper:
Liz Brophy: 07957 196 053 / liz.brophy@littlehelper.co.uk
Kim Johnson: 07760 173 212 / kim.johnson@littlehelper.co.uk

Notes to Editors:

- Little Helper has designed and created the multi award-winning FunPod, a unique platform that elevates children to the level of a kitchen worktop allowing them to interact, learn and play in the kitchen. The FunPod has won nine industry awards and has been heralded by safety organisations and health professionals as highly socially responsible.
- Other Little Helper products include: the FunPod HighChair, The Baby High-Low Chair, The FunStation, The Zooper HighChair, The FunPack, as well as the distribution of Baby Boum Fleece and sleepwear. See toys play baby products|http://www.littlehelper.co.uk] for more details.