A Gift Beyond Words: Online/WAP Dictionary is the Perfect Present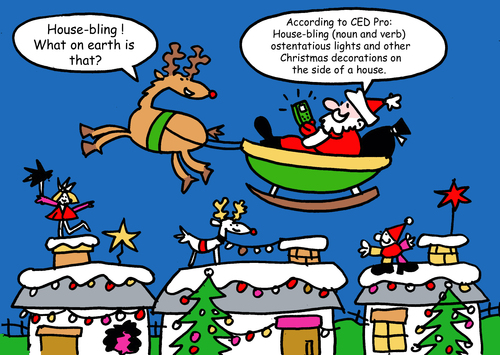 Collins Gives Anytime, Anywhere Access To 120,000 Words, 6,000 Biographies and Regular Updates Of The Very Latest English Vocabulary

Collins has Christmas all wrapped up this year with Collins English Dictionary Pro (CED Pro) (www.collinslanguage.com), the latest version of its dictionary available in print, online and via mobile phones and other wireless devices. Renowned for being the definitive reference book of today's English language, CED Pro provides not only a spectacular Christmas present, but also a sack full of new English words to describe the festivities this winterval. Annual online subscriptions range from £14.99 - £19.99 excluding VAT, and with 20% of all orders received before 20th December*, you don't have to be making serious bank to afford it.

Going home for Christmas? If you can't find enough room to pack your dictionary, you can access CED Pro on your mobile phone – or any other wireless device – as you travel cattle class to this year's family throw down. CED Pro is so easy to use that you won't need mad skills to access the most up-to-date words and definitions.

A unique biographies section will enable you to look up the latest details on famous figures such as Kate Middleton and Lewis Hamilton. With 6,000 biographies to choose from, all at the touch of a button, you can find key information about heads of state, key politicians, notable media people and sporting heroes (as well as WAGS and celebutantes).

If you're staying at home, you can access the dictionary on your PC or Mac, on or offline. Each of the 120,000 word entries is hyperlinked, and information can be searched for in a variety of intuitive ways. As finding information has never been easier, you can use all the time you save to impress your bredren with house-bling.

The complete unabridged dictionary and thesaurus is updated regularly with all the latest vocabulary, so it won't ever go out of date and have to be freecycled. Over 100 new words are already included in CED Pro, giving subscribers access to words that are still on editors' desks waiting for inclusion in the next printed version.

Collins has a unique way of ensuring that the dictionary represents the sharpest snapshot of English language in use at any time. To keep up to speed with the world's biggest and fastest growing language, Collin's lexicographers have devised a pioneering tool called 'corpus'. The corpus is a two and a half billion word database which receives a constant flow of text from various sources such as newspapers, books, magazines, journals, websites, and transcripts of broadcast programmes. This data is then analysed to build up a detailed picture of how English really works.

Elaine Higgleton, Editorial Director of English Dictionaries, commented, "English speakers everywhere love to use new words and phrases – it's one of the reasons we'll be adding over 100 words every quarter to CED Pro – so we're sure that the dictionary will bring a lot of fun to the festivities this year. With all the speed and flexibility of access that the CED Pro offers, users really do have the most current words at their disposal, anytime, anywhere and anyhow, and that will make this the gift that keeps on giving."

*To qualify for your 20% discount on:
• An annual subscription to Collins English Dictionary Pro, please go to: www.collinslanguage.com/subcedoffer
• Desktop download of Collins English Dictionary Pro, please go to: http://www.collinslanguage.com/deskcedoffer

Offer only available until 20th December

For more information, please contact Tara Sinclair at Livewire Public Relations, Tel: 020 8339 7440, tara.sinclair@livewirepr.com


Notes to editors:

New words:

- Winterval: controversial name for the festive season supposedly adopted by certain local authorities to avoid offending non-Christians.
- Bank: (noun) money: making some serious bank.
- Cattle class: (noun, informal) a jocular name for the economy-class section of an airliner, in which passengers have little space to move.
- Throw down: (verb, US, slang) a to offer or accept a challenge to fight b to fight.
- Mad: (adjective, informal) extremely impressive; extraordinary: I got mad skills
- WAGS: (noun, informal) the wife or girlfriend of a famous sportsman.
- Celebutantes: (noun) a young woman from a wealthy background that becomes a celebrity
- Bredren: (slang) a friend or comrade.
- House-bling: (noun and verb) ostentatious lights and other Christmas decorations on the outside of a house.
- Freecycle: an informal network of citizens who cooperate online to promote recycling by offering one another unwanted items free of charge.

New biographies:

• New heads of state/politicians/royalty: Kate Middleton, Nicholas Sarkozy – the French President, Condoleezza Rice – US Secretary of State, Nouri Al Maliki – the Iraqi Prime Minister, Ban Ki-moon – the UN Secretary General, Edward Fenech Adami – President of Malta, Valdas Adamkus – President of Lithuania, Nouri al-Maliki – Prime Minister of Iraq, Traian Basescu –President of Romania, Janez Drnovsek – President of Slovenia, Ivan Gasparovic – President of Slovakia, Toomas Hendrik Ilves – President of Estonia, Lech Kaczynski – President of Poland, Vaclav Klaus – President of Czech Republic, Tassos Nikolaou Papadopoulos – President of Cyprus, Georgi Parumov – President of Bulgaria, Laszlo Solyom – President of Hungary, Jalal Talabani – President of Iraq and Valdis Zatlers – President of Latvia
• From the world of theatre and film: Dame Helen Mirren, Forrest Whitaker, Johnny Depp, Brad Pitt, Angelina Jolie and Bourne Ultimatum director Paul Greengrass.

• In literature: Ian Rankin, Chimamanda Ngozi Adichie – Nigerian novelist and Kiran Desai.

• In the sporting arena: Roger Federer, Andrew Flintoff, Lewis Carl Hamilton, Carlos Tevez – Argentinian footballer and Ricky Ponting – Australian cricketer.

• And in music and entertainment: Victoria Beckham, Russell Brand, Davina McCall and Kanye West.