You have £50,000 – Now What?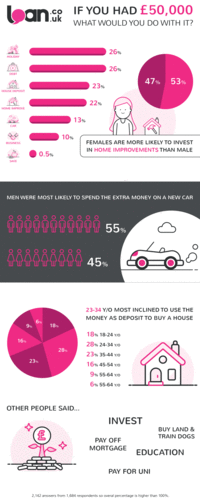 Bournemouth, UK. February 8, 2019 - Secured loans broker Loan.co.uk recently asked 2,000 British men and women what they would do if they were given £50,000 to spend.

The question comes just a month after Patrick and Frances Connolly from Northern Ireland were revealed as the winners of the £115m New Year's Day EuroMillions jackpot.

When asked what they'd do with the money, Mr. Connolly replied that he'd attend the Formula 1 Grand Prix in Monaco and enjoy the sun with his family in Mauritius.

Loan.co.uk's research found that the majority of Brits would react the exact same to a financial windfall, with 26% saying they'd spend a massive £50,000 on a dream holiday.

With the average UK household debt, including mortgages, sitting at £58,540, it's perhaps unsurprising that another 26% stated they'd pay off what they owed.

English households have the highest amount of debt per household and therefore it's perhaps expected that the new research showed it's the English (81%) that would focus on becoming debt free quickly, compared to just 3% of Northern Irish.

Only a quarter of respondents would spend the money on immediately improving their lifestyle, with 54% of women saying they'd do home improvements.

33% of the respondents would be a bit savvier and invest the money by starting a new business or using it as a deposit on a house. Not all people in the survey answered with complete seriousness, with one Brit stating they'd buy 50,000 chocolate bars from Poundland!

Loan.co.uk is a national regulated specialist brokerage. With expertise in secured loans, unsecured loans and everything in between. Our mission is to help people and businesses reach their goals, both for today and tomorrow. We're here to disrupt the way people borrow money in the UK. We make borrowing money faster, and easier than ever.

The survey data can be found at [https://www.loan.co.uk/in-the-news/you-have-50000-now-what/] We have produced an infographic to complement this data. Please feel free to use it in any publication, but please click back to the website if doing so.

Please contact Monika.Grzankowska@loan.co.uk (07724546439) for further information, images, quotes or PR support.