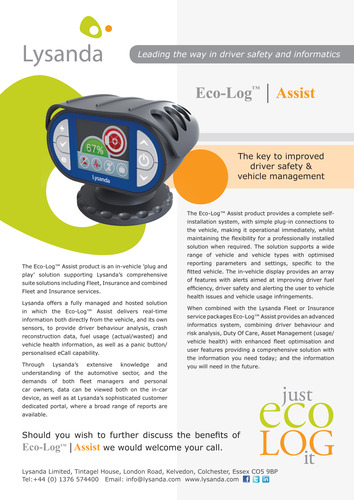 Lysanda Announces 'The Next Generation in Telematics'

Ground breaking technology integrating telematics within the OEM, fleet and insurance sectors with M2M connected car hosted solutions

London – 7th May 2013 – Today, at Insurance Telematics Europe 2013, Lysanda announced their next generation of Eco-Log™ products. The Eco-Log™ Assist is a dynamic solution, combining a wealth of options, surpassing any competitor offering and leading telematics into a new era of connected car technology. Bringing to the market for the first time, integrated, in-depth driver behavior analysis, empirical risk/rate evaluation to support forensic accident reconstruction and to reduce the volume and quantum of insurance claims. Detailed asset management for fleet operators, as well as extensive real time vehicle health diagnostics/prognostics are just some of the benefits that this new solution offers.

Commenting on the release, Geoffrey Finlay, Chairman...
Read full release