BEKO'S NEW GLOBAL FC BARCELONA CAMPAIGN INVITES FANS TO JOIN THE BEST TEAM EVER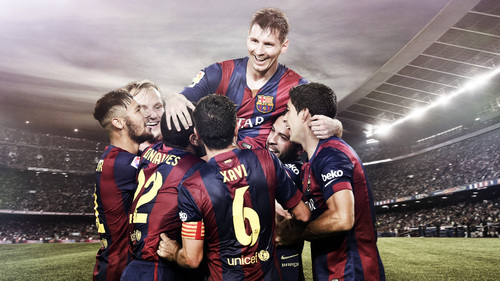 20th March 2015

BEKO'S NEW GLOBAL FC BARCELONA CAMPAIGN
INVITES FANS TO JOIN THE BEST TEAM EVER

Beko, the UK's best-selling large home appliance brand , today announces a brand new advertising campaign to support its global Premium Partnership with FC Barcelona. The campaign celebrates team spirit and will premiere on the day of the much anticipated 'El Clasico' football match between FC Barcelona and Real Madrid on Sunday 22nd March.

The new TV advert features some of FC Barcelona's best known football players including Lionel Messi, Neymar Jr., Gerard Piqué, Luis Suárez and Andrés Iniesta working together, both on the pitch and at home, showing how they inspire and support each other as a team. Barcelona's winning spirit is captured perfectly, showing fans how team spirit really can implement change for the better.

Beko provides an innovative and reliable range of appliances which make consumers daily lives easier. Via its new advertising campaign it will invite families all over the world to join its team. The 360˚ campaign, which includes TV advertising, print, outdoor, digital and social media, is expected to reach people all over the world. Fans will be encouraged to join Beko's team using the hashtag #JoinOurTeam.

CEO of Arçelik Group (the parent company of Beko) Hakan Bulgurlu comments: "This campaign brings together two renowned brands: Beko and FC Barcelona. We are immensely proud of our four year Premium Partnership and are confident that this new campaign will strengthen our brand globally. Watching world-class footballers perform on the pitch can remind us all that team spirit can drive amazing results."

Tülin Karabük, CMO, comments: "At Beko, our appliances support families every single day by offering smart, innovative solutions that make a difference to everyday life, and we hope that our new campaign highlights how we can help achieve and inspire each other through teamwork both on the football pitch and at home."
Watch the full advert here TV Advert

-Ends-

Media enquiries: Beko team at Mercieca
E: beko@mercieca.co.uk T: +44 207 485 0100

Customer Services Telephone Number: 0845 600 4904
Trade enquiry number: 01923 818 121
Website: www.beko.co.uk
About Beko plc:
Established in the UK in 1990, Beko plc is a subsidiary of large multinational group - KOÇ Holdings and the Arҫelik Group. KOÇ Holdings is ranked as one of the top 350 companies in the world whilst Arçelik, the parent company of Beko, is the third largest company in the home appliances industry in Europe.

Beko, the global brand of Arçelik Group, has increased its market share and reached the position of second largest home appliances brand in Europe. The brand, which maintains its longstanding market leadership in the UK, is the top brand in freestanding home appliances market in France.

Recent insight from independent consumer reviews on Reevoo shows the popularity of the brand. Based on impartial owner feedback from May 2012 to April 2014, Beko has achieved an average of 9 out of 10 review score from over 7,000 customer reviews for its range of American style fridge freezers, built-in ovens and large capacity washing machines. Across all Beko products, it has an average review score of 8.6/10 from over 40,000 reviews.

The company continues to develop helpful, innovative and energy efficient electrical appliances, designed to make everyday life easier for families with speedy cycles and energy saving features which can assist in saving time and money. Beko delivers exceptional value and quality, securing high levels of customer satisfaction through listening and responding to householders needs. These factors make Beko the consumer's brand of choice.