Miglio Designer Jewellery launches autumn/winter 2009 collection – Firenze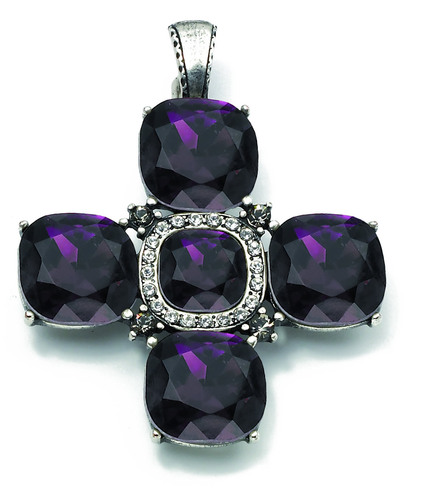 19th August 2009 – Miglio Designer Jewellery is unveiling their brand new collection of stunning costume jewellery this month, available to buy from consultants from September 2009.

A mixture of chunky, statement necklaces, bracelets and earrings with Swarovski crystal and semi precious stones plus brand new cufflinks for women and a dress ring, this is Miglio's biggest collection to date.

Miglio's look this season takes inspiration from the fleur de lis motif and is designed to offer colour, luxury and individuality in every piece.

N1001 – versatile classic burnished silver chain (£24.50) teamed with EN507 - a divine jewelled burnished silver cross with stunning amethyst Swarovski crystal centre surrounded by amethyst cushion cut crystals (£125)

N1031 – Burnished silver intricate royal link necklace (£124.50) looks amazing with EN506 – an amethyst crystal solitaire set in a frame of burnished silver (£65)

N424 – an elegant bronze wheat chain (£59.50) is elevated by the addition of EN501 – a rectangular smoky quartz crystal solitaire in a frame of antique bronze (£65)

N1005 – five strand chocolate brown leather necklace (£19.50) with EN456 – an antique bronze cross enhancer featuring brilliant cut light Colorado topaz Swarovski crystals (£64.50)

N1012 – multi-chain fine link necklace in burnished silver (£75.50) with the addition of EN502 – a spectacular black diamond crystal solitaire set in a frame of burnished silver (£65)

B944 – a black diamond crystal bracelet in burnished silver (£138)

N1007 – multi-strand black leather necklace (£49.50) with EN378 – a sensational enhancer featuring a multi-faceted cubic zirconia heart with burnished silver clip (£139)

N1004 – five strand metallic grey leather necklace (£19.50) plus EN504 – a dramatic black diamond crystal oval framed by square and brilliant cut Swarovski crystals (£148)

B930 – a sophisticated creation of bold oval Swarovski crystals in gleaming burnished silver make this bracelet stand out (£255)

CL65 – burnished silver and Swarovski crystal cufflinks (£75)

RR42 – dazzling Swarovski crystal dress ring in burnished silver (available in s,m and l) (£145)

All Miglio jewellery is designed to be versatile – bracelets can be combined with extension chains to convert them to necklaces, enhancers can be used on any of the necklaces or added to bracelets to give an evening look.

Miglio has been based in the UK for five years and sells a range of beautiful semi-precious jewellery via independent consultants. Miglio is the UK's fastest growing direct sales company and all the jewellery is exclusively designed and made in purpose built premises in South Africa. There are now over 1,200 consultants across the UK and Miglio has been recognised as providing fantastic jewellery as well as giving consultants a good way of running their own business and was recently shortlisted by the Direct Selling Association as an 'excellent' business.

The company sells handmade South African jewellery and also supports The Homestead, Projects for Street Children, through the sale of special jewellery made by the female relatives of street children in South Africa.

www.miglio.co.uk

Images of the jewellery available from Sarah Wolf at Miglio
sarah@miglio.co.uk
01460 279960
07812 099243

High resolution images available to download from www.prshots.com/miglio

For product loans, to be sent the catalogue or for other pieces please contact Sarah Wolf - sarah@miglio.co.uk.