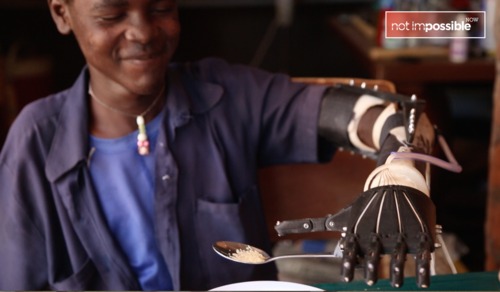 FOR IMMEDIATE RELEASE
November 12, 2014

Not Impossible Labs' Award-Winning 'Project Daniel' Celebrates One-Year Anniversary

Los Angeles, CA – One year ago today, Daniel Omar – a 16-year old boy of Sudan's war-ravaged Nuba Mountains – used a 3D-printed arm to feed himself. Having lost both arms at age 14 when a bomb was dropped on this civilian territory, Daniel had considered his life not worth living.

Printed, built and fitted by trailblazer and entrepreneur Mick Ebeling, Project Daniel's mission began after Ebeling read about Daniel's story in a news article. As the founder and CEO of Not Impossible, Ebeling knew he needed to help, Daniel's story exemplified Not Impossible's mission to use "technology for the sake of humanity."

Traveling with 3D printers, filament and some tools, and having trained with Robohand inventor Richard Van As,...
Read full release