Omnifone reports 600% increase in platform streams from non-Western and emerging markets during 2013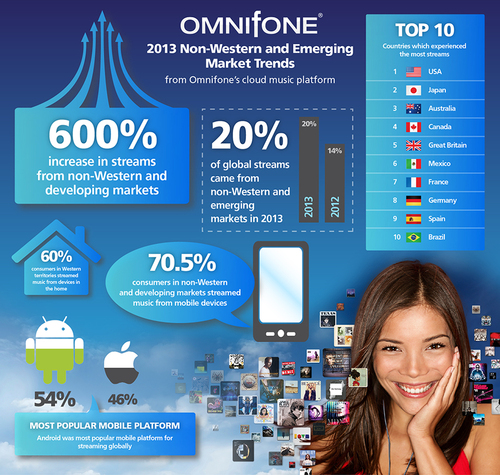 Omnifone, the leading global cloud music platform provider, today announces that streams from end-users in non-Western and emerging markets grew six-fold on its cloud music platform since January 2013. Non-western and developing countries account for 20 per cent of total global streams compared to just 14 per cent in 2012, a significant increase when taken into account the speed with which the emerging markets are growing.

Contributing to the growth is the increasing acceptance of on-demand streaming services in emerging markets where users are becoming accustomed to the superior user experience of legitimate cloud-based music services. Omnifone's expansion into new markets such as Brazil, Mexico and Indonesia further contributed to the rise in non-Western platform streams.

The availability of both global and domestic catalogue content in non-Western markets such as Japan and Indonesia was also a key driver to non-Western subscriber growth.

Jeff Hughes, CEO, Omnifone, says: "The data we report today shows there is a wealth of
potentially untapped opportunity for global digital music services in markets where connected mobile device adoption is on the up. Incomes are increasing and local rights owners are more supportive than ever of digital platforms which are creating the right balance of supply and demand. Technology aside, domestic catalogue availability is vital for successful expansion into these new markets. Equally important is pricing that reflects the economic conditions in emerging markets. We envisage a new breed of as yet unknown business models will start to emerge as rights owners and digital platforms respond to the financial needs of consumers. This will increase the need for flexible technical and commercial structures around global services."

The top 10 countries which experienced the most streams from January 2013 to January 2014 were US, Japan, Australia, Canada, Great Britain, Mexico, France, Germany, Spain and Brazil. While the majority of consumers in Western territories streamed music from devices in the home (60 per cent), 70.5 per cent of users in non-western and developing markets accessed on-demand music streaming services from mobile devices.

Android was the most popular mobile platform for streaming music globally, with 54 per cent of listeners accessing music from the operating system compared to 46 per cent on iOS.

Omnifone also powered Guvera's recent expansion into Indonesia, a market with huge potential. Omnifone and Guvera worked with local rights owners to offer a comprehensive domestic Indonesian catalogue at affordable weekly and monthly rates.