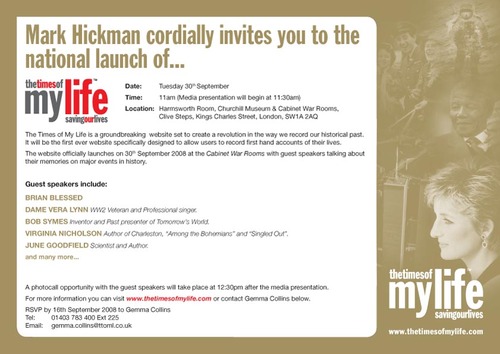 Brian Blessed, Dame Vera Lynn and Bob Symes launch Britain's biggest memory bank.

On Tuesday 30th September at the Cabinet War Rooms in London, the way we record our historical past is set to change forever due to a new website, The Times of My Life.

Whether you are a WW2 Veteran, a mum-to-be, a blushing bride or a teenager who's just experienced their first trip to Ibiza, everybody in the world has a story to tell yet millions of memories have been lost within the last year alone as nobody is documenting them. However, The Times of My Life is set to change history. The site has been specifically designed to allow users to record first hand accounts of their lives through a multitude of media enabling stories to be shared and never forgotten.

The Times of my Life also opens a new door for students studying history. In the future the learning process will not just involve dull monologues in textbooks as the website allows members to read...
Read full release