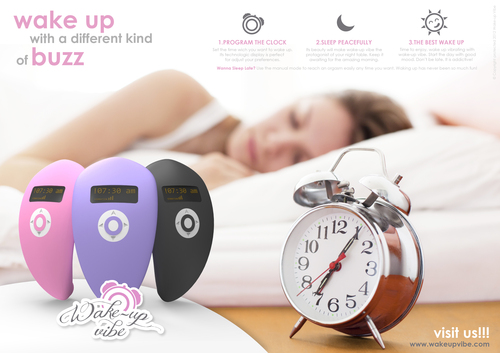 Wake up with a buzz! - Introducing the Wake-Up Vibe

It looks like a funky alarm clock, and it is. But this gorgeous little gadget won't wake you up with a persistent beep, beep, beep, beep....

The utterly unique feature of this invention is the vibration function! Yes, that's right, you can now wake up to buzz, buzz, buzz instead!

The Wake-Up Vibe is very easy to use, with a clear display and simple controls. Just like an alarm clock, set your desired wake up time. Then it's just a case of deciding what sort of vibration (there are 6 patterns) and intensity you want to wake up with. What a great way to start a day!

The shape has been designed to fit perfectly to the female form, so it can be left in place comfortably (externally) during the night. The hypoallergenic silicone skin is super-silky to the touch and easy to keep clean. The manual function means it can be used as a simple massager, alone or with a...
Read full release