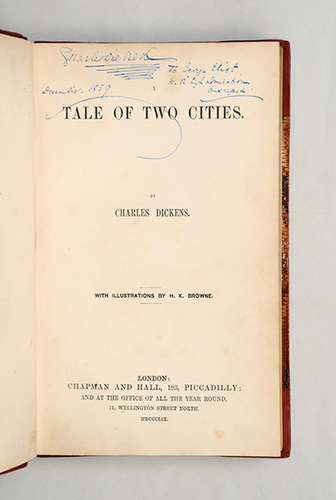 Rare book dealer Peter Harrington has acquired the best Dickens presentation copy to have come to market in a generation: the author's most famous work, A Tale of Two Cities, inscribed to George Eliot.

This piece of history - on show at the Dover Street bookshop in its original presentation binding and priced at 275,000GBP - is part of a wider correspondence between the two authors, one that saw Dickens intrigued enough to ask if he was in fact a she in a heartfelt letter.

The inscription inside the first-edition copy reads "Charles Dickens, To George Eliot, with high admiration and regard. December, 1859."

Paths crossed more than once

Unbeknownst to Dickens, he and Eliot originally met in 1852, before Mary Ann Evans alighted upon the pseudonym. At the time, Eliot found Dickens "disappointing [and with] no benevolence in the face and I think little in the heart.".

This initial meeting was not to prevent...
Read full release