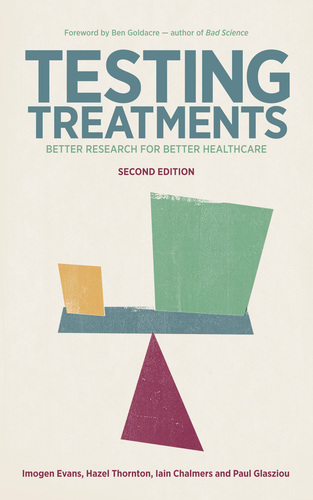 TESTING TREATMENTS: BETTER RESEARCH FOR BETTER HEALTHCARE (second edition)
Published 18 October 2011 by Pinter & Martin Ltd
by Imogen Evans, Hazel Thornton, Iain Chalmers and Paul Glasziou

How do we know whether a particular treatment really works? How reliable is the evidence? And how do we ensure that research into medical treatments best meets the needs of patients? These are just a few of the questions addressed in a lively and informative way in Testing Treatments. Easily navigated and brimming with vivid examples, Testing Treatments will inspire both patients and professionals. Sadly many treatments, both new and old, are not based on sound evidence - and people can suffer as a result.  Happily, as Testing Treatments explains, we can all do something about this.  Everyone can play their part in critically assessing treatment...
Read full release