A decade to dominance – fibre to the world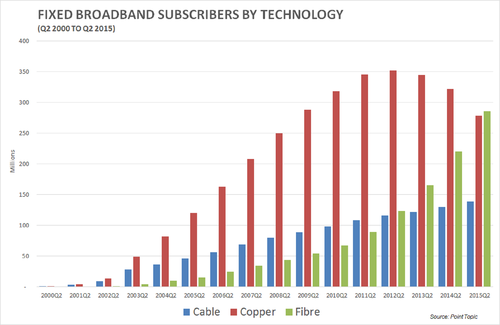 China and US lead the copper meltdown

There are now more subscribers to fibre broadband services worldwide than any other fixed broadband technology. In not much more than ten years fibre has made it to over 285 million subscribers and a 40 per cent plus market share.

Other access technologies are growing too, albeit more steadily. Cable's global market share has dropped by almost 6 per cent in the last five years and while they have a smaller slice there is a bigger pie.

Fixed is not a solution for everyone either economically or practically but there are still instances where mobile is not good enough or available. Satellite and local fixed wireless access solutions have done relatively well.

China and the US continue to lead the adoption race but markets around the world are switching to fibre in the local loop in a variety of flavours.

FTTx, usually with a VDSL termination is common in mature telecoms markets. FTTH still struggles to the business case today in a number of instances but a tipping point is coming for many as the savings in Opex approach the Capex associated with deployment and bandwidth demand continues to grow. In new build markets and command economies FTTH is the favoured deployment.

Fibre growth overall will continue but as China starts to slow, which it will do over the coming quarters as they approach the last few million in their upgrade programme, the global picture will be steadier.

"2015 will be the year of peak global fibre subscriber growth but with plenty of headroom left in a large number of local markets," says Oliver Johnson, CEO at Point Topic.


***ENDS***

Online version - http://point-topic.com/free-analysis/a-decade-to-dominance-f...


About Point Topic

Point Topic is the primary websource for DSL, FTTx, cable and other broadband supplier and user statistics, databases, information, analysis and reports.

Its data is in use worldwide amongst governments, commercial organisations and as general reference. A range of online services provides the most up-to-date, accurate and cost effective worldwide and UK specific broadband data sets available.

See www.point-topic.com for more details.

For more information please contact Priya Minhas,
priya.minhas@point-topic.com: +44(0)20 3301 3303.