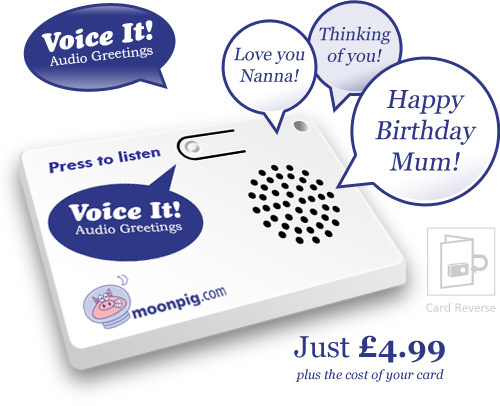 October 26, 2008; London, UK; Make your Moonpig card extra special in every sense…by personalising a card and adding your own special audio greeting. Don't just write it! Voice It!

It couldn't be easier to create your Voice It! message. Simply record your personal message over the telephone and Moonpig will upload your Voice It! and attach it to your selected card.

If you can't be with that special person on their birthday then why not surprise them with this unique keepsake. It's also a great way to whisper a sweet nothing or say "hello" to someone abroad.

Moonpig has teamed up with Pre.vu, the creators of the world's first remotely recorded, personalised audio greeting designed for online gift stores giving shoppers the opportunity to deliver a message in their own voice and straight from the heart.

Moonpig has a magnificent selection of cards to be personalised and to brighten any special occasion which will be made even...
Read full release