Gravity Force Indoor Trampoline Park Opens its Doors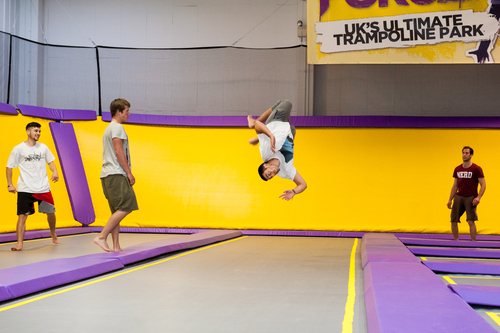 England's largest indoor trampoline park bounces into Camberley

Camberley, Surrey – 6 June 2014 – England's largest indoor trampoline park, Gravity Force celebrated it's grand opening yesterday, with a VIP party at its Camberley-based location. Found on Admiralty Way near Watchmoor Park in Camberley, Surrey the 27,000 square foot warehouse is filled with wall-to-wall trampoline courts and features foam pits and angled trampolines that literally allow you to bounce off the walls.

There to help the family-run business celebrate were the Mayor of Camberley Bob Paten, local counselors and community leaders, Facebook competition winners from across Surrey, Hampshire and Berkshire and Storror Parkour team who delighted onlookers with a display of their aggressive and renegade style of movement and breathtaking size of stunts.

Amanda Parker, 2013 women's synchro trampolining World Games and World Championship gold medalist also attended the launch. A PE teacher at Collingwood College, in Camberley, she explains, "I am so excited that this facility is coming to the region. The Park provides brilliant new access for people to engage with it more as a professional sport."

It costs just £10 per hour of free jumping and is open 10am-10pm Monday to Friday, 10am-11pm on Saturdays and 10am to 9pm on Sundays. Visitors can also enjoy fitness classes, basketball lanes, a foam pit, birthday and corporate team building packages, toddler time and a dodgeball league. For those aged 14 plus, the GraviTeen party night with live DJ will run every Friday from 8pm to 10pm. See www.gravityforce.co.uk for further information.

Trampoline parks are already a roaring success overseas. There are over 170 parks in America and the concept has now spread to Australia, Amsterdam, Ireland, Mexico and Singapore to name but a few.

When you jump, every muscle, tendon, organ and cell in your body is strengthened. It's also great for toning.

Sarah Sims, Founder and Owner at Gravity Force explains, "NASA states that the benefits of the trampoline are 68% more efficient than jogging. 10 minutes bouncing on a trampoline is a better cardiovascular workout than 33 minutes of running without the impact stress on your body's joints. Jumping conditions and strengthens the heart that allows the resting heart to beat less often. This in turn sends a stronger surge of blood through the veins. Proven to increase your metabolic rate, it helps your body to process nutrients more efficiently and keep your weight down. But, the very best thing about trampolining is that it's heaps of fun for people of all ages."

Find Gravity Force on Facebook or see www.gravityforce.co.uk.

Note to editors
Imagery available.

About Gravity Force
Gravity Force is England's first indoor trampoline park. Situated across 27,000 square feet in Camberley, Surrey, it features wall-to-wall trampoline courts, foam pits and angled trampolines around the walls. Marketed to urban sports enthusiasts, the park was founded and is owned by local mumtrenpreneur Sarah Sims. As well as birthday packages and teen parties, Gravity Force offers fitness classes, toddler time for pre-school children, family days, team building and corporate events as well as dodge ball leagues.

Gravity Force is based at Unit 6/7 Admiralty Park, Admiralty Way (nr Watchmoor Park), Camberley,
Surrey, GU15 3DT. See www.gravityforce.co.uk or visit https://www.facebook.com/pages/Gravity-Force/252179434890474....