Purdicom Wins "European Distributor of the Year" 2014 for Siklu as it Gears for New Markets & Expansion in 2015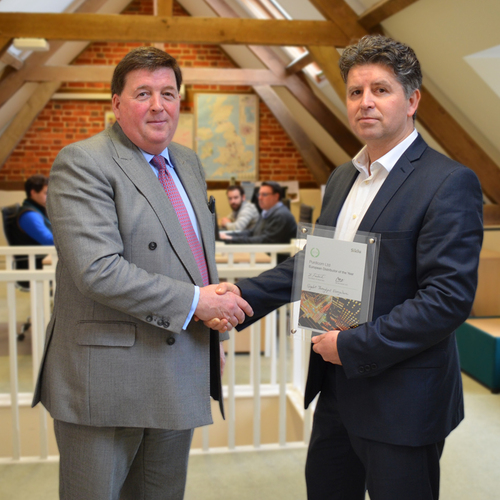 After a year of partnership, Purdicom takes the Siklu distribution crown in Europe as the Wireless Distributor Eyes Further Expansion in 2015

OXFORDSHIRE, UNITED KINDOM – January 29, 2015 – Purdicom today announced that it has been officially awarded as the "European Distributor of the Year" 2014 by Siklu the leading millimetre wave vendor following the first full year of partnership between the two companies resulting in a year of rapid growth, secure channel development and setting a firm foundation for 2015.

Purdicom, the leading wireless, cloud & security distributor headed from its Oxfordshire HQ, has successfully established a committed partner base of forward thinking ISPs, CCTV specialists and system integrators which has helped propel the millimetre-wave Vendor Siklu towards large growth in to UK & Ireland market. With the need for high speed, reliable backhaul, Purdicom & Siklu have played an active role supporting the BDUK Connection Vouchers scheme providing 100s of gigabit wireless links to ISPs connecting businesses, city-centre WiFi initiatives and many CCTV projects ranging from private security to council borough networks.

"Purdicom's first full year of partnership with Siklu has been exciting and with cooperation from the great team from Siklu, the millimetre wave wireless innovator, we have successfully capitalised on various markets, government schemes and high speed connectivity demands presented within the UK & Ireland market place." Commented Hugh Garrod, Managing Director for Purdicom. "Our dedicated Solutions Team formed in late 2012 has proved a storming success where we have found it to become the "go-to" experts in its given markets."

Whilst celebrating the 2014 triumphs with Siklu, Purdicom is looking forward and has ambitious plans by continuing to grow in current markets whilst diversifying into new territories to increase revenues by over 50% in 2015. Siklu have hinted towards exciting future product developments and expanded UK resources to be announced soon which sets to cement its position as the most deployed millimetre wave vendor in the UK. Siklu's plans for 2015 gears the vendor to lead the still young millimetre wave market and also gain more market share from the saturated UK microwave and 5Ghz market.

"We are pleased to award Purdicom as the Siklu European Distributor of the Year 2014 and are equally excited for what 2015 will bring. With further technology developments, we aim to provide more millimetre-wave gigabit links to partners throughout 2015 supporting them in projects be it high speed internet connections, CCTV or other types of fibre/leased line replacement." Commented Andrew Westerman, Sales Director, Northern Europe for Siklu.

The announcement comes as Siklu is sponsoring the "Wireless for Critical CCTV Security & Public Safety" 2015 event hosted by Purdicom. The event, held at Purdicom's offices on 5th March 2015, will enable CCTV integrators to work with industry leading technology that will keep them competitive to help councils and private organisations to meet the rising demand for enhanced public safety and surveillance solutions. This highly beneficial event will provide attendees with knowledge of the industry, verticals & technologies to assist in penetrating the market that is in high demand for wireless technology.

Purdicom also recently achieved ISO9001 accreditation cementing its dedication to consistently providing products and services that meet the needs of customers. Ramping up customer engagement and rewards is a key agenda on the 2015 Purdicom manifesto with the wireless distributor to release information on more events and programs soon.

Press Contact:
George Garrod, Marketing Manager for Purdicom
Tel: 01488 637 230
Email: george.garrod@purdi.com

About Purdicom

Purdicom is an award winning distributor specialising in Wireless, Cloud & Security technologies. Purdicom is a dynamic & proactive value-add distributor with exceptional technical, sales & marketing support unlike any other. Its product portfolio is fitting for all Wireless, Cloud & Security scenarios ranging from Wi-Fi, Point to Point/Multipoint, Network Security, Mobile Device Management, Networking & more. Purdicom has become a recognised force within the UK IT industry spanning its wings throughout Europe, Middle East & Africa. Its vendors include Ruckus Wireless, Siklu, Cambium Networks, iboss Network Security & more. Learn more at www.purdi.com.

About Siklu

Siklu delivers Gigabit capacity millimetre wave wireless backhaul solutions operating in the 60, 70 and 80 GHz bands, ideal for dense, capacity-hungry urban networks. The most deployed millimetre wave radios in the world, thousands of units are delivering carrier grade performance in varying weather conditions around the world. Learn more at www.siklu.com.