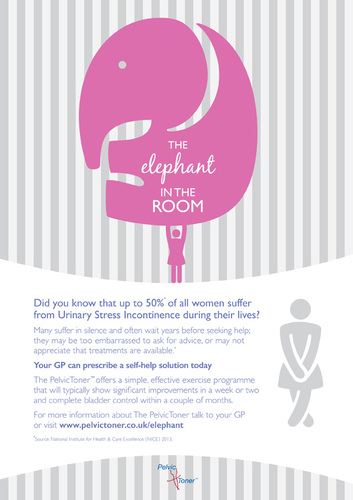 At last some great news for the NHS to counter reports of poor care, budget cuts and postcode lotteries affecting treatment and patient choice.

GPs throughout the UK now have a new low-cost weapon in their armoury to help challenge the last great health taboo. A new campaign will hopefully encourage GPs and their patients to discuss a fast effective treatment that will save the NHS millions of pounds and enable scarce resources to be used more effectively.

Every GP surgery in the UK has been sent information about The Elephant in the Room campaign with copies of a poster encouraging their patients to discuss Stress Incontinence - one of the most common medical conditions affecting women today – especially new and older mothers.

According to NICE, between half and two thirds of the women visiting their GP surgery are suffering from Urinary Stress Incontinence (USI). Yet NICE suggests that as few as 2% are seeking help and advice for the...
Read full release