Unique Anti-Blemish Skincare Clearogen Hits UK Shores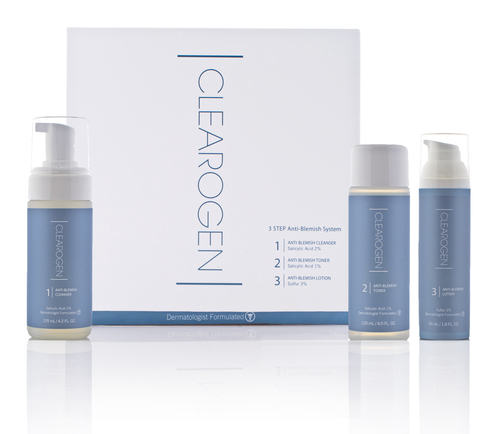 Top online health and wellbeing retailer StressNoMore.co.uk has recently become a distributor of the pioneering American blemish treatment Clearogen. What makes Clearogen so different to other spot treatments is that it gets to the root of spots by inhibiting the production of DHT, the hormone responsible for sending the sebaceous glands into overdrive and blocking the pores with oil.

The 3-part system, formulated by dermatologist Dr Alex Khadavi, uses a unique blend of active ingredients that cleanse the skin and natural botanical extracts that work with the body to help balance DHT levels and promote healing.

The Cleanser and Toner both contain 1% salicylic acid to remove excess dirt and oil, plus soothing natural ingredients such as lavender, rosemary and chamomile to reduce redness and start the healing process. The Lotion contains 3% sulfur which helps to clear away existing spots, plus a collection of natural ingredients including peppermint and saw palmetto to inhibit the production of DHT and oil.

Many anti-blemish skincare systems tend to reduce excess oil and leave the skin clear for a few days before the build-up begins again and another breakout occurs. Clearogen gives long-term results which makes it set to become the latest must-have skincare product for both teenagers and adults who want to banish bad skin permanently.

Clearogen 3-Step Anti-Blemish System is available from www.StressNoMore.co.uk and the Cleanser, Toner and Lotion can all also be bought individually. For press enquiries please contact Heather@Savantini.com or telephone 01482 888785.