The Latest Pelvic Floor Exerciser That Makes Your Kegels a Pleasure!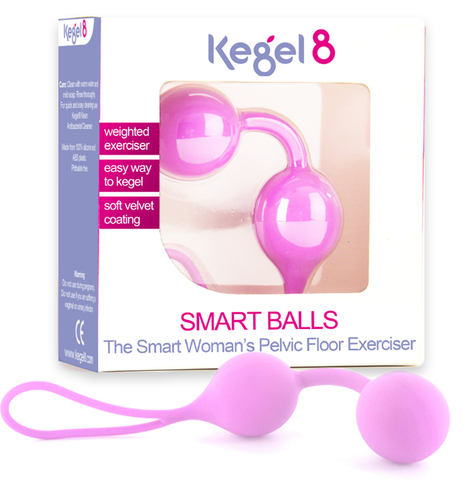 Leading pelvic floor experts Kegel8 have today announced the launch of their new Kegel8 Kegel Balls – a new and effective way to make Kegel exercise not only easy, but fun too.

What sets apart the Kegel8 Kegel Balls from other weighted Kegel ball exercisers is the inclusion of an exclusive link to an online exercise guide. This guide has been developed by a leading physiotherapist in order to help women get the very best from their Kegel Balls pelvic floor exerciser.

Kegel8 Kegel Balls have been designed to give all women an affordable way to strengthen their pelvic floor, making them the perfect way to prevent and treat laughter leaks, incontinence and other pelvic floor weakness. They're also great for new mums wanting to get back in shape from the inside out after having their baby.
With an ultra-smooth velvety coating, the Kegel8 Kegel Balls are really comfortable to insert and remove, are easy to clean and they feel gorgeously silky against your skin.

It is recommended to follow the online exercise plan for a 10-15 minute workout each day for the very best results. However for those who are always busy and on-the-go, you can simply wear them for 20 minutes as you go about your day-to-day activities and the Kegel balls will work their magic. The gentle oscillation of the internal balls causes a natural reflex of your pelvic floor muscles, meaning that over time, the muscles get stronger, healthier and more toned.

Stephanie Taylor, Managing Director of Kegel8 and pelvic floor expert says: "Women tell us that they avoid Kegel exercises for two reasons; one is that they are not sure they are doing them properly and secondly they don't think they work. We developed these new Kegel Balls almost like a 'Sat Nav' for the Kegel muscles – they locate the correct muscles, ensuring results are faster and more impressive. We've been inundated with feedback from couples who have 'enjoyed' the benefits after following the simple 12 week course!

"Here at Kegel8 we see the worst side of a weak pelvic floor such as bladder problems, prolapse and hysterectomy, but many women are unaware that such serious complications can arise if they don't keep their muscles healthy. If we can educate more women into strengthening their Kegel muscles they too will enjoy a healthier love-life, natural child birth and a strong pelvic floor for life and we will know we've made a difference!"

Kegel8 Kegel Balls are priced at £29.99 and are available from www.kegel8.com. For product images and further information, please contact Heather Lindley at Savantini Limited – heather@savantini.com or 01482 888785.