Go Red For Alzheimer's Month – Clinically Proven Products Help Alzheimer's Patients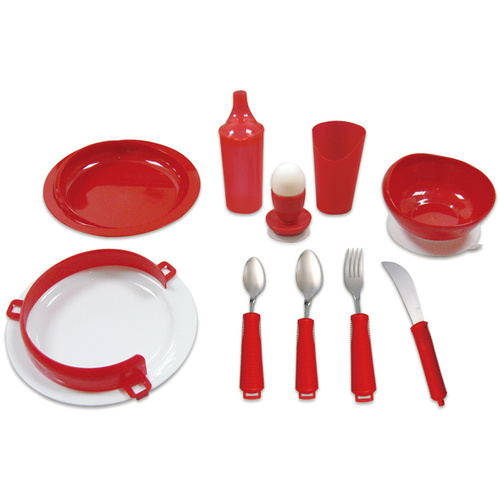 To support World Alzheimer's Month this September StressNoMore.co.uk is telling people to Go Red with clinically proven Red Tableware.

Alzheimer's disease is a distressing and debilitating condition that affects more than 800,000 people in the UK alone. A common symptom of Alzheimer's and other forms of dementia is loss of interest in food and the inability to focus on food and mealtimes. Plus, many sufferers experience reduced motility in the hands and have difficulty holding cutlery and physically feeding themselves. As a result of these problems, 40% of people with Alzheimer's lose extreme amounts of weight and become undernourished during the later stages of the disease.

However, recent studies have shown that there may be a simple solution to this common and crippling problem. A study by Boston University showed that Alzheimer's patients who ate and drank from red tableware consumed 25% more food and 84% more liquid than those using white tableware.

It is thought that the high-contrast red enabled better recognition of food on the plate, helping the patients to focus on the task and eat more. For sufferers of dementia this simple change to red tableware could dramatically improve their physical health.

At StressNoMore, we have always offered the latest and most revolutionary health products for people of all ages and are proud to stock a selection of red tableware specially designed for Alzheimer's patients. The plates, bowls and cups all have lips on one side and suction cups on the bottom to prevent spills, whilst the flexible cutlery has ergonomic easy-grip handles to enable easy use for people with limb contractures and limited movement.

In support of World Alzheimer's Month we're offering 10% off all red tableware products throughout September 2013. Customers can use gift code GO-RED at the checkout.

The red tableware collection is available from StressNoMore.co.uk and is priced from £10.00 to £50.00. For more information, images and other queries please contact Ellie Scott at Savantini Limited on ellie@savantini.com or 01482 888785.