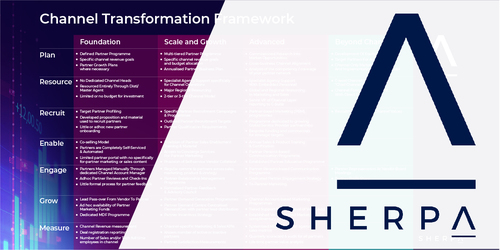 Specialist Channel Agency, Sherpa, have launched the tech industry's first ever Channel Transformation Model.

Comprised of both a Framework detailing the stages of Channel maturity and a diagnostic tool through which Channel organisations can assess their own Channel output and compare their score against the industry average, the Channel Transformation Model is a practical way for companies to understand their Channel and create a roadmap for growth. Aligned to the Sirius Decisions' Channel Operations model, this Framework provides Vendors with an actionable strategy around which they can build a business case and safeguard investment.

Sherpa Director, Pascale Smith says, "the complexities of an organisation's Channel can be hard to monitor and control, let alone improve and with many Vendors expressing issues with visibility and scale, we realised there was a requirement for a practical, understandable structure which enables companies to review and...
Read full release