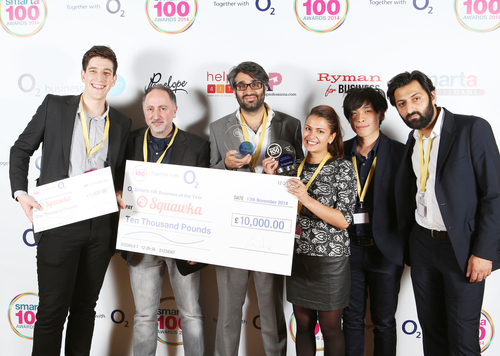 PRESS RELEASE:
FOR IMMEDIATE USE

DISRUPTIVE FOOTBALL FIRM SQUAWKA SCORES 'BUSINESS OF THE YEAR' AWARD

Squawka, the fast-growing small business that using innovative data analysis to build an audience of football fans to give Sky and the BBC a run for its money, has been named the 'O2 Smarta 100 Business of the Year' at the O2 Smarta 100 Awards 2014.

Squawka beat off more than 2,000 applicants and was voted by the public to win the 'Best Use of Technology' category before being selected by a judging panel that included Dragons' Den's Piers Linney, founder of Ella's Kitchen Paul Lindley and former Dyson CEO Martin McCourt, to be named the overall 'O2 Smarta 100 Business of the Year and collect a prize of £10,000.

Founded in 2011, Squawka's 'second screen experience' has been labeled 'football fans' best friend', providing real-time analysis and content to accompany any live football match.

With...
Read full release