Can a new dietary supplement help minimise the risk of breast cancer?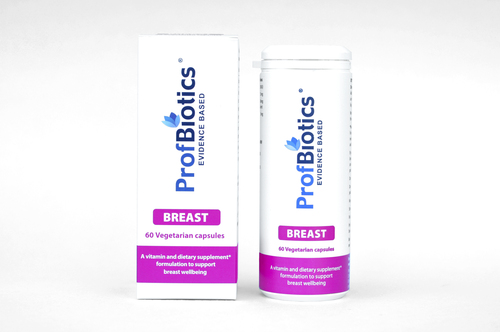 In the UK, about 1 in 8 women will develop breast cancer at some point during their lifetime. While there is no guaranteed way to prevent the disease, there are steps that may help lower the risk – especially for those at an increased risk of developing breast cancer.

As well as leading a healthy diet and lifestyle, women who are at risk or worried about breast cancer may be able to lower their chances of developing it, by supplementing their diet with a revolutionary new supplement, ProfBiotics Breast (£35.00, profbiotics.com). Welcomed by leading cancer experts, it has been developed in consultation with Professor Martyn Caplin, leading cancer specialist and consultant gastroenterologist at London's Royal Free Hospital, following a comprehensive review of clinical evidence investigating the role of specific nutrients in breast cancer prevention.

The supplement has been formulated to contain the specific blend of ingredients to help support breast wellbeing:

• Lycopene (found in tomatoes), which has been increasingly associated with breast well-being. Studies suggest that women with higher circulating levels of lycopene may be at reduced risk of breast cancer
• Vitamin D, which has been found to regulate cell death – data suggest there is an association between lower levels of vitamin D and higher rates of breast cancer
• Zinc – studies find that low zinc intake may be linked to breast cancer risk
• Curcumin, which appears to be useful in preventing human breast cancer development

The formula contains the equivalent of eight teaspoons of turmeric which would be difficult to consume each day through diet alone.

Cancer experts have welcomed the initiative. Justin Stebbing, Professor of Cancer Medicine and Oncology at Imperial College London, comments, "Any approach which may help reduce cancer risk utilising diet and appropriate nutrients is of huge potential value for individuals and society. The combinations used in these products are in line with the results of scientific research studying different tumour types and represent a new approach to tackling cancer incidence through diet and nutrient supplementation. The formulations may also have a role during and after cancer treatment for nutritional support, and to counter adverse effects of chemotherapies."

ProfBiotics Breast is priced at RRP £35.00 and is available from profbiotics.com, dietandcancer.co.uk or by calling 020 7193 8838.

ENDS

Leading cancer expert available to talk about the role of specific dietary supplements proven to aid cancer prevention

A new study released this week from the University of Colorado Cancer Centre in the US warns of the potential risks associated with high doses of vitamin E, beta-catotene and folic acid including an increased risk of cancer and other diseases.

Eminent UK cancer expert, Professor Martyn Caplin, welcomes the results of this study but is keen to highlight that whilst some supplements may increase the risk of cancer, others have been shown to have a role in cancer prevention.

Professor Caplin has published a number of studies reviewing the evidence base behind certain compounds for cancer prevention and is available to discuss his research and the role that supplements may have to play in the treatment and prevention of cancer and other diseases.

For all media enquiries, press information, sample requests or interviews with Professor Martyn Caplin, please contact Spink: 01444 811099 / jo@spinkhealth.com

Notes to Editors:

The Product

ProfBiotics Breast - A unique vitamin and dietary supplement with a specific formulation of ingredients to support breast wellbeing. Each capsule contains:

• Vitamin D 12.5mcg (500 IU)
• Zinc (from Citrate) 7.5mg
• Curcumin extract 25:1 – 240mg providing 6000mg whole herb equivalent
• Lycopene-rich Tomato powder 5mg

ProfBiotics offer concentrated nutrition and are not medicines designed to cure or treat cancer. ProfBiotics Breast is not a medicine and does not replace the need to eat a varied and balanced diet or to reduce your need to exercise.

About Professor Martyn Caplin

Prof. Caplin is a world authority on rare forms of gastrointestinal and pancreatic cancers, leading research into these cancers as well as publishing over 100 scientific/medical papers and presenting both nationally and internationally at medical meetings. In the course of his work, Professor Caplin realised that many of his cancer and gastroenterology patients were taking supplements without any evidence or rationale. He reviewed the evidence for the benefits of diet and nutritional compounds in cancer prevention and his work has been published in a number of medical journals. ProfBiotics was formed to enable access to this information as well as promoting specific dietary plans. Subsequently the company attracted health-minded investors which led to the ProfBiotics range of vitamin and dietary food supplements being developed in order to support specific organs which might reduce the risk of health conditions arising.

About Professor Justin Stebbing

Professor Justin Stebbing trained in medicine at Trinity College Oxford, where he gained a triple first class degree. Professor Stebbing has published over 500 peer-reviewed papers in journals such as the Lancet, New England Journal, Blood, the Journal of Clinical Oncology, Annals of Internal Medicine, as well as writing for national newspapers and presenting new data on optimal cancer therapies at major international conferences. His focus at Leaders in Oncology Care is on new therapies in cancer, and the systemic management of patients with solid malignancies.

References:

http://www.cancerresearchuk.org/about-cancer/type/breast-can...

The three main risk factors for breast cancer are the ones we can't do anything about – gender, ageing and significant family history (a family history is significant if there are a number of cases of breast and ovarian cancer in the family, and/or cases at a young age, and/or male relatives with breast cancer, or inherited altered genes) http://www.breastcancercare.org.uk/breast-cancer-information...).

"The Role of Dietary Factors in Prevention and Progression of Breast Cancer" - Roberta Elisa Rossi, Marinos Pericleous, Dalvinder Mandair, Tara Whyand and Martyn Evan Caplin, Sept 2014
"The Role of Dietary Factors in Prevention and Progression of Breast Cancer" - Roberta Elisa Rossi, Marinos Pericleous, Dalvinder Mandair, Tara Whyand and Martyn Evan Caplin, Sept 2014
"The Role of Dietary Factors in Prevention and Progression of Breast Cancer" - Roberta Elisa Rossi, Marinos Pericleous, Dalvinder Mandair, Tara Whyand and Martyn Evan Caplin, Sept 2014
"Curcumin and its formulations: potential anti-cancer agents." Anticancer Agents Med Chem 2012;12:210–8. Ji JL, Huang XF, Zhu HL.