Carbon monoxide alarm saves Hampshire family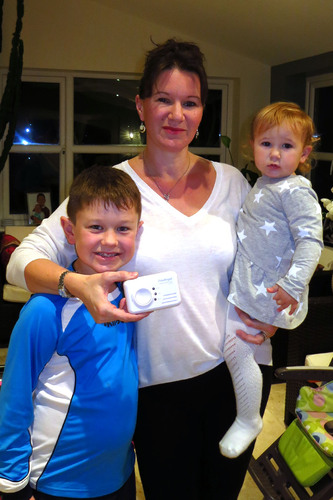 A family in Chandlers Ford in Hampshire are safe thanks to their carbon monoxide (CO) alarm alerting them to the deadly gas' presence in their home.

In this Carbon Monoxide Awareness Week, Louise Aspinall is eager to share her experience to make more people aware of the potentially fatal dangers of this poisonous gas, so they can stay safe.

When her CO alarm sounded at 9.30 last Tuesday morning, Louise was about to leave home to go to a friend's house with her one year-old daughter, Lucy. "Lucy really didn't want to go until Peppa Pig had finished," said Louise. "Then just as we were ready to leave the house, the alarm sounded.

"Ever since our boiler was fitted two years ago, I had this feeling that we should fit a carbon monoxide alarm. The boiler is located in a cupboard in a back porch between the garage and our kitchen. It was fitted by a registered installer who had all the right qualifications, but as it's a gas appliance, I wanted to have the assurance of an audible carbon monoxide alarm nearby to warn us of any leak."

Louise's decision to install the CO alarm was a life-saving one. "There is no doubt about it, this CO alarm saved our lives. After the emergency services had checked our home was safe, a registered gas service engineer came to check the boiler. He had to shut it down immediately because the levels of CO were so high, saying it could kill him."

Two more registered Gas Safe engineers have since checked, fixed and verified the safety of the boiler. "Each agreed that without the CO alarm, the consequences could have been catastrophic. I can't begin to imagine what might have happened," added Louise.

It is believed the leak may have been caused by an incorrect emissions setting and it is thought the boiler could have been leaking CO for some time. "The engineer said that it was likely that the boiler had been sending most of the fumes outside for a while, but that something either got into the flue, or changed in the boiler so that the fumes were now coming into the house," said Louise.

This could explain some of the symptoms being experienced by the family over recent months.

"My husband, Darrin has been feeling unwell for a while, with cold symptoms, sinus problems and an inflamed nose. We put it down to the weather, change of temperature and colds doing the rounds," explained Louise.

"The children too have been under the weather with chesty coughs, but now in hindsight and having learned of how the symptoms of carbon monoxide poisoning can mimic so many other common illnesses, I'm certain they've been caused by a build-up of CO leaking from the boiler.

"Darrin does most of the cooking, so he's in the kitchen closer to the boiler much more than me and the children."

Blood tests taken from Darrin showed high levels of CO in his bloodstream, prompting doctor's to perform an ECG. Thankfully, the results showed no cause for further investigation.

This latest incident highlights yet again the potentially fatal dangers of what has become known as 'the silent killer'. Each year the Department of Health estimates there are around 40 deaths from accidental CO poisoning in England and Wales and in excess of 200 non-fatal cases that require hospitalisation. At least 4,000 people attend A&E each year diagnosed with CO poisoning. However, It's estimated that one third of a million people potentially suffer from exposure to CO unknowingly1.

The effects of CO poisoning are estimated to cost the NHS £178 million a year2.

Carbon monoxide is a highly poisonous gas that has no colour, taste or smell, so it is totally invisible to the human senses. Because the gas is so difficult to detect and the symptoms often mistaken for other ailments such as flu, food poisoning or even hangovers, many people can be poisoned without knowing it.

Badly-fitted and unchecked appliances that use gas, wood, oil, coal or other solid fuel, along with faulty boilers, flues or poorly ventilated ovens are often to blame. Worryingly, CO can also enter a property from adjoining households.

The only way to detect it is with an audible carbon monoxide alarm which warns you before the gas becomes life threatening so action can be taken to stay safe.

"I urge anyone who hasn't got a carbon monoxide alarm to make sure they fit one straight away," said Louise. "Everyone needs to be aware of the risks of this deadly gas. Even though our boiler was fairly new and serviced annually by a Gas Safe Registered engineer, our experience shows that things can go wrong in between checks, but without a CO alarm we would never have known until it was too late."

Know the signs of CO:

Although you can't see, smell or taste carbon monoxide, there are signs that indicate there may be a strong risk of CO being produced:

• Black soot marks or staining on or around gas fire burners or on walls near cookers, boilers or gas fires
• Excessive condensation in the room where the appliance is installed
• If you are using a gas appliance, it should have a crisp blue flame, such as a pilot light. If it turns to a lazy orange flame, the appliance may not be working correctly

Recognise the symptoms:

Early symptoms of carbon monoxide poisoning include:

• Nausea
• Dizziness
• Breathlessness
• Headaches
• Loss of consciousness
• Collapse

One useful indicator that carbon monoxide may be the cause is if symptoms disappear when you leave your home and reappear when you're at home.