Sykes Cottages announce charity partnership with PDSA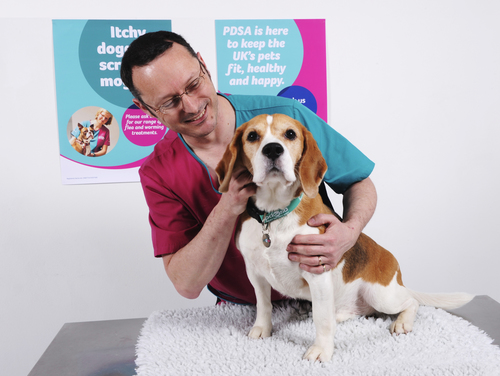 Sykes Cottages has announced a new charity partnership with PDSA, the UK's leading vet charity.

For every holiday booked via the PDSA website, the holiday cottage rental agency will donate 10% of the booking value to support PDSA's vital work and help pets in need. This new partnership will allow animal-lovers across the UK to support the charity when booking one of over 4,000 pet friendly cottages that Sykes Cottages offer across the UK and Ireland.

PDSA provide support and free veterinary care for sick and injured pets of people in need. They have a network of 51 Pet Hospitals and 380 Pet Practices across the UK and work tirelessly to improve pet wellbeing. Last year they provided over 2.7 million veterinary treatments and helped over 470,000 pets.

Graham Donoghue, CEO at Sykes Cottages said: "As a big animal lover with several pets of my own, I'm very proud on a personal level to be partnering with PDSA. Within Sykes Cottages, we have hundreds of staff and property owners who are devoted pet owners and last year, over 71,000 pets travelled on holiday with our customers. PDSA is a cause very close to our hearts. PDSA do a tremendous amount of work to ensure the wellbeing of pets across the UK and we're confident that our customers will be thrilled to help us support such a fantastic charity".

Richard Hooker, Director of Veterinary Services at PDSA said: "We are delighted to be working with Sykes Cottages as it's clear that they share our passion for animals. Pets are at the heart of our supporters' families and many wouldn't consider going on holiday without theirs. Thanks to our new partnership our supporters can raise funds for PDSA by simply going on holiday. We look forward to working with Sykes Cottages".

To book a dog friendly holiday in the UK and help raise funds for PDSA, use the link: www.sykescottages.co.uk/pet-friendly-cottages.html?rfx=11517

NOTE TO EDITORS:
For more information or high-res images, please contact press@sykescottages.co.uk or call 01244 746 333.

About Sykes Cottages

Sykes Cottages is the UK's leading and fastest-growing independent holiday cottage rental agency. Based in Chester, they offer a fantastic choice of over 7,500 holiday rentals across the UK and Ireland from cosy cottages for two to larger properties that sleep 20 or more.

With over 25 years' experience in the business, they are experts in their field. Customers can book cottages with confidence, and property owners can rest assured that Sykes will combine trusted experience with local knowledge to bring them the bookings they deserve.

About PDSA

Follow the story at @PDSA_HQ and @PDSAPressOffice

At PDSA we believe that every pet deserves to live a happy and healthy life. As the UK's leading veterinary charity, with 51 Pet Hospitals and 380 Pet Practices, we strive to improve pets' lives – through prevention, education and treatment.

Every year our dedicated veterinary teams carry out 2.7 million treatments on 470,000 pets. For media enquiries contact the Press Office on 01952 797234, email pr@pdsa.org.uk, or visit www.pdsa.org.uk/press-office.